Storm Mountain News
Local News
Saturday, March 11th - Missing Hiker Found In RMNP...
A 32 year old Denver man who was reported missing this afternoon in the Chasm Lake area of Rocky Mountain National Park has been found safe.
The man, whose name is being withheld at this time, was reportedly hiking with a friend near Chasm Junction on the Long's Peak Trail when he failed to show up at a designated time and location.
Searchers reportedly located the man at around 6:50pm this evening in near white out conditions at approximately 12,700 feet in altitude.
---
Friday, March 10th - Snow Advisory Issued Through 6PM...
The National Weather Service in Denver has issued a Snow Advisory for the front range foothills between 6000 - 9000 feet, including the Drake, Glen Haven and Storm Mountain areas, through 6PM Friday.
SNOW WILL CONTINUE IN THE FOOTHILLS NORTH OF INTERSTATE 70 TODAY. THE SNOW WILL BE HEAVIEST ACROSS SOUTHERN LARIMER AND BOULDER COUNTIES. SNOW ACCUMULATIONS OF 3 TO 7 INCHES CAN BE EXPECTED BY LATE THIS AFTERNOON. A SNOW ADVISORY MEANS THAT PERIODS OF SNOW MAY CAUSE TRAVEL DIFFICULTIES.
The complete text of this official advisory can be found via the link provided below.
FDR 128 Extremely Slick...
Reports are coming in that FDR 128 is extremely icy and slick. Several cars are being reported as sliding and stuck on Railsback Hill. Vehicles with chains are reported as making the hill without problems. The remainder of FDR 128 is reported as snowpacked with no problems.
One vehicle is now in the ditch on the inside of Railsback Curve at the bottom of the hill. Eyewitness reports are that the driver purposely steered his slide into the ditch to avoid hitting children in the road, apparently from another stuck vehicle.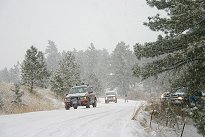 Residents are advised to use extreme caution if traveling on FDR 128 this morning, with chains and 4WD highly recommended. Should your vehicle slide and become stuck, either remain in the vehicle or get as far away from the road as possible to avoid being struck by another sliding vehicle. DO NOT STAND IN THE ROADWAY! No injuries or major accidents have been reported as of 8AM.
Snow is expected to continue throughout the day with accumulations in excess of 6 inches possible in some areas. Icing on roadways may become more prominent as temperatures fall towards evening.
World Record Groundbreaking Saturday...
The entire community, especially youths, are invited to share in the celebration and breaking of a world record for most shovels at a groundbreaking. The first 2,600 people in attendance will receive a commemorative shovel for the history-making dig. The shovels will also be used to help reach the goal to break the Guinness World Record. People are also encouraged to bring their own shovels for the ceremony.
Many local youth organizations are excited to have the new Thomas M. McKee 4-H Youth and Community Building at The Ranch, Larimer County Fairgrounds and Events Complex. The building will allow various groups in the community to utilize the space for club meetings, events, and other activities. The building is scheduled to break ground this Saturday, March 11 with ground breaking festivities beginning at 5:30 p.m. at The Ranch.
"I am excited for the 4-H building because the program finally has a place to call home," said Brianna Sawyer, District II Secretary and Larimer County Jr. Leader 4-H Club President. "This is not just a 4-H building, but also a community building, it's beneficial for everyone."
The new building will be available for a wide variety of youth community groups and that is good news to Kelly Moll, District Director for the Longs Peak Council of the Boy Scouts of America. Kelly states, "The Boy Scouts already use The Ranch for a variety of events; however having a building available for youth groups specifically, is great news for us because it increases our opportunities while lowering our costs."
The Ranch received its single largest gift ever when the McKee Charitable Trust gave $800,000 toward a new 4-H building this past December. McKee was a farmer, businessman, and philanthropist who wanted to give back to the people of the City of Loveland and Larimer County. As part of the gift, the McKee Trust also wanted other non-profit groups to use the facility.
---
Thursday, March 9th - Prescribed Burns At Horsetooth MP...
The Larimer County Parks and Open Lands Department staff will conduct slash pile burns March 9 through March 13, at Horsetooth Mountain Park west of Fort Collins.
The pile burns are part of an on-going wildfire mitigation/forest health project in the Park, involving mechanical thinning and hand piling tree limbs and dead material. The slash piles will be burned when there is at least 3 inches of snow on the ground to prevent fire spread. An interagency team of trained firefighters will conduct the burns in accordance to Larimer County Burn Permit Regulations.
Smoke from the burning piles will be visible from Fort Collins, Loveland and along the Northern Front Range. Please do not call 911 or your local law enforcement, as they are already aware of burns. If you have any questions, please contact Mark Caughlan at (970) 498-5600.
The Horsetooth Mountain Park Forest Management Project has been going on since the fall of 2001, and will continue in the future. Approximately 60 acres along the South park boundary and 20 acres along the North park boundary have been treated to date. The purpose of the fuels project is threefold:
To reduce fuel loading to prevent catastrophic fires
To remove trees damaged by insects and disease
To restore the area to more natural and healthy forest conditions.
---
Wednesday, March 8th - Winter Storm Warning...
The National Weather Service in Denver has issued a Winter Storm Warning for the front range foothills above 6000ft, including the Drake, Glen Haven and Storm Mountain areas, through 6PM Wednesday.
SNOW WILL BEGIN IN THE EASTERN FOOTHILLS BY AROUND SUNRISE...AND CONTINUE THROUGH THE AFTERNOON. SNOWFALL WILL BE HEAVY AT TIMES WITH ACCUMULATIONS OF 8 TO 12 INCHES. MANY HIGHWAYS WILL BECOME ICY AND SNOW PACKED. ALL DRIVERS ARE URGED TO EXERCISE CAUTION.
REMEMBER, A WINTER STORM WARNING MEANS HAZARDOUS WINTER WEATHER CONDITIONS ARE IMMINENT OR HIGHLY LIKELY. SIGNIFICANT SNOW ACCUMULATIONS ARE OCCURRING OR EXPECTED. STRONG WINDS ARE ALSO POSSIBLE. THIS WILL MAKE TRAVEL VERY HAZARDOUS OR IMPOSSIBLE.
The complete text of this official warning can be found via the link provided below.
---
Tuesday, March 7th - A Sincere Thank You...
We at Storm Mountain News, on behalf of our area residents, would like to sincerely thank all of the firefighters, sheriff's deputies, pilots and others who came to our aid during the Switchback Fire.
In addition, a sincere thank you is extended to Loveland Rural Fire Protection, Glen Haven Volunteer Fire Department, Storm Mountain Emergency Response Team, Larimer County Sheriff's Department, U.S. Forest Service and the individual residents who came to our community's aid this weekend. Your service, concern and dedicated actions are deeply appreciated by all who live here.
Volunteer firefighters and community groups such as SMERT can literally be life savers in these very dangerous situations. Too often the fire itself catches all of the attention and these true heroes go quietly home un-noticed. We want you to know that your selfless dedication and brave actions do not go unseen.
These individuals place themselves in harms way to protect the lives and property of others in danger. This is often done with limited resources and equipment. With the government cutting funding across the board and the threat of a disastrous fire season ahead, these already limited resources will likely be spread very thin.
A great way for residents and homeowners to say thank you and express your gratitude to these invaluable agencies is through contributions and donations. This citizen funding can help provide crews with badly needed equipment to better and more safely fight wildfires. Below is a list of our local agencies where you can make a difference and send the best thank you of all, your support.
Red Flag Warning Issued..
The National Weather Service in Denver has issued a Red Flag Warning for the front range foothills and northeast plains, including the Drake, Glen Haven and Storm Mountain areas until 6PM MST on Tuesday evening.
STRONG DOWNSLOPE WINDS COMBINED WITH VERY LOW RELATIVE HUMIDITIES AND DRY FUELS WILL PRODUCE CRITICAL WILDLAND FIRE CONDITIONS FAVORABLE FOR THE RAPID SPREAD OF WILDFIRES. WEST WINDS AT SUSTAINED SPEEDS OF 15 TO 25 MPH WITH GUSTS OF 30 TO 40 MPH AND RELATIVE HUMIDITIES BELOW 15 PERCENT WILL DEVELOP BY LATE MORNING IN THE AREA COVERED BY THIS WARNING.
BY TUESDAY EVENING, CRITICAL WILDFIRE CONDITIONS ARE EXPECTED TO EASE AS WINDS DECREASE AND RELATIVE HUMIDITIES RISE.
A RED FLAG WARNING MEANS THAT CRITICAL FIRE WEATHER CONDITIONS ARE EITHER OCCURRING OR IMMINENT. PLEASE ADVISE THE APPROPRIATE OFFICIALS AND FIRE CREWS IN THE FIELD OF THIS RED FLAG WARNING.
The complete text of this official warning can be found via the link provided below.
---
Monday, March 6th - Residents Question County Board Decision...
Several residents in the Storm Mountain area are questioning the Larimer County Board's recent decision not to implement a fire ban throughout the county.
On February 1st, Sheriff Jim Alderdan stated, "We have also had to consider the causes of the recent fires. We are seeing very few campers this time of the year so there are very few campfires. The campfires we do see are in permanent grates which are typically exempt from bans except under the most serious conditions. The recent fires have been caused by electrical malfunctions or other accidental causes. A fire ban would not have prevented any of these fires."
Some residents now believe that this weekend's "Switchback Fire" could possibly have been prevented had a fire ban been in place. While there are indeed less campers at this time of year, it only takes one to start a fire. A fire ban would also have minimal adverse affects on tourism at this time of year.
On Monday, January 9th, Governor Bill Owens announced a ban on open fires on all State owned lands below 8000 feet. In addition, the governor urged county boards throughout the State to issue open fire bans for their specific counties. Larimer County Board members decided not to heed the Governor's warning and did not issue a fire ban for Larimer County.
Would a fire ban have prevented the Switchback Fire? That is impossible to say. No official cause of the fire has been released and there is no guarantee that campers would have obeyed the fire ban had it been in place.
With conditions deteriorating and a frightening fire season forecast, a fire ban throughout Larimer County is likely to be issued soon.
---
Sunday, March 5th - Photo Of The Week...
Taken just before sunrise on Wednesday morning, this week's photo features the beautiful Comet Pojmanski rising over Palisade Mountain.
Comet Pojmanski (C2006/A1), is now starting to dim daily but is still a nice object for binoculars and backyard telescopes. Pojmanski rises in the east around 3:30am this week, reaching 22° above the horizon before being lost in the glow of approaching daylight at around 5:30am.
To find Pojmanski look to the east around 4:30am and find Venus, the brightest object in the sky other than our sun and moon. Extend your arm and make a fist. The comet is approximately one fist to the left and 1/2 fist above Venus (Finder Map).
More photos of Comet Pojmanski can be found in our Pojmanski Gallery via the link provided below.
---
Saturday, March 4th -
Switchback Fire 3PM Update...
The Switchback Fire on Storm Mountain is now being reported as 80% contained. FDR 128 is open again to local traffic.
Fire crews from Loveland (LRFP), Glen Haven and the Forest Service are expected to work into the night mopping up the blaze and extinguishing hot spots. No evacuations are expected.

UPDATE: As of 5pm the Switchback Fire is now reported as 85% contained. Crews are currently working hotspots in the burn area. High winds are still blowing and are expected to continue into the evening. The fire is currently estimated to have burned approximately 15 acres.
Wildfire On Storm Mountain...
A large, rapidly growing wildfire, now officially named the "Switchback Fire", is currently burning near Combat Rock on Storm Mountain. As of 12PM noon, the fire was estimated at 5 to 6 acres in size.
Residents and members of Storm Mountain Emergency Response Team (S.M.E.R.T.) have set up a line of volunteers near the top of the switchbacks. Air support is being called in to help battle the blaze. A Loveland (LRFP) fire crew is on scene and working a line along the right flank of the fire. A staging area has now officially been set up at the River Forks Stage Stop at the intersection of Hwy 34 and CO 43.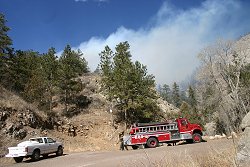 Larimer County Sheriff's have closed FDR 128 and are stopping residents from going up FDR 128 to release their animals or gather belongings, infuriating many local residents. Should the fire block this road, all residents would be trapped on the mountain as FDR 128 is the only access and egress to the area.
High and gusty winds are feeding the fire which is traveling to the North-Northeast up Bobcat Gulch. This blaze is taking an almost identical path as the "Bobcat Gulch Wildfire" which burned over 11,000 acres in 2000.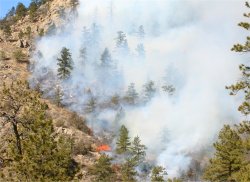 Residents are advised to prepare for possible evacuations in the Cedar Park and Cedar Springs area. Official fire info will be posted on this site as it becomes available.
UPDATE: As of 1:30pm air crews are dropping water on the blaze slowing the fire's progress. No evacuations have been ordered.
While no official cause has been noted, it is highly suspected to be a result of a campfire as youths were reported camping in that exact area last night.
---
Wednesday, March 1st - Comet Graces Morning Skies...
Early risers throughout our area have the opportunity to view Comet Pojmanski in the eastern sky just before sunrise.
Pojmanski can be found in the eastern sky to the left of Venus. Binoculars or a small telescope will reveal the fuzzy green head and the impressive tail. The comet will be visible in our area for the next week or two, after which it will dim beyond visibility.
Comet Pojmanski (C2006/A1) was discovered on January 1st, 2006 by Grzegorz Pojmanski of the Warsaw University Astronomical Observatory, after which the comet was named.
Below are more photos of Comet Pojmanski taken on Storm Mountain on Wednesday morning. A finder map can also be found below.
---