Sunday July 16th - Photo Of The Week...
One of the most popular hiking destinations in Rocky Mountain National Park, Dream Lake is featured in this week's photo of the week.
Situated at an elevation of 9,900 feet, Dream Lake is a short 1.1 mile hike from the Bear Lake Trailhead. Spectacular views abound along the Dream Lake Trail which also takes you past the beautiful Nymph Lake.
From Dream Lake hikers can continue on to Emerald Lake, .8 mile ahead, and then another .7 mile to The Pool of Jade, 1.5 miles from Dream Lake. Another trail forks from the Dream Lake Trail just before Dream Lake and will take you to beautiful Lake Haiyaha, 1 mile from Dream Lake.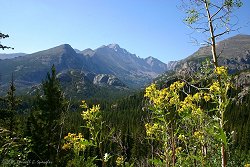 As parking at the Bear Lake Trailhead is limited and fills up quickly, it is recommended to start your hike early in the morning or use the free Bear Lake Shuttle to get to the trailhead.
Be sure to bring your camera as the Dream Lake area is indeed one of the most beautiful and most photographed spots in Rocky Mountain National Park.
---