Storm Mountain News
Local News
Saturday September 16th - High Wind Warning Today...
The National Weather Service in Denver has issued a High Wind Warning for the majority of the front range mountains and foothills, including the Drake, Glen Haven and Storm Mountain areas, until 6:00PM MDT this evening.
Gusty southwest winds across the front range foothills and mountains are expected to shift to the west and quickly increase to 30-40mph. Peak gusts in wind prone areas could reach 75-80mph.
Area residents are advised to secure or move indoors any patio furniture, grills and other objects subject to blowing away. Drivers of high-profile vehicles should use caution when driving or delay travel until this evening, as very strong gusting is expected.
In addition to the high winds, much cooler temperatures can be expected for the next few days with nigh-time lows approaching the freezing point in some areas. Homeowners and gardeners should be prepared to cover less hardy plants on these nights.
---
Thursday September 14th - County Acknowledges Contamination Problem...
On Wednesday, officials from the Larimer County Department of Health and Environment surveyed the private land reported to be contaminated by chemicals running from CR 41H.
LCDHE employees Jerry Blehm and Dave McClowski spent over two hours yesterday driving CR 41H and walking the land reported as contaminated with the homeowner. After reviewing the area it was unanimously agreed that this was an unacceptable situation which needs to be remedied.
The homeowner, who was somewhat tight-lipped about any discussion yesterday stated, "I am very grateful that they took the time to actually walk my land. They got to see and photograph pools of standing chemicals as well as flow paths through the property. Had this been properly done back in 2004, when Tom Gonzales clearly saw the problem but chose to ignore it, many of our large trees and our dog, Ali, might still be alive."
Ali, a black lab, died in May of 2005 from suspected exposure to chemicals in the run-off. Toxicology tests performed at CSU confirmed the presence of arsenic, also confirmed to be in the run-off, in both her liver and kidneys.
---
Tuesday September 12th - Private Land Flooded With Chemicals...
A homeowner whose property was inundated with chemical runoff in 2004 has reported that today his land was again flooded with concentrated chemicals intended to inhibit dust on CR 41H, the access road for Storm Mountain communities.
Over the past two years this issue had somewhat died down with minimal chemical use and bordering to prevent potential run-off. However today was entirely different. No bordering or precautions were taken with a heavy application allowing large streams of chemicals, straight out of the truck, to flow freely across the homeowner's land.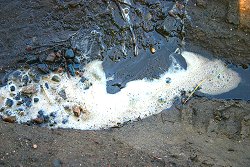 This run-off was tested in 2004 by Stuart Environmental Consultants and was confirmed to contain dangerously high amounts of arsenic, barium and chromium. In 2004, run-off from CR 41H was reported to be responsible for the death of one dog, several large trees, and hundreds of fish in the Big Thompson River. Ironically, this type of action is condoned by Larimer County Department of Health and Environment.
2006 Chemical Contamination Photos
---
Sunday September 10th - Photo Of The Week...
Taken on Tuesday in Rocky Mountain National Park, this week's photo features a common four-legged animal found throughout Colorado, the Coyote.
The Coyote (Canis latrans) is a wild relative of the domestic dog. Coyotes have adjusted very well to human-disturbed environments, and now thrive in close proximity to people. They are found throughout the United States (except Hawaii) and in most of Canada.
Coyotes are opportunistic hunters, They prey on small mammals, domestic pets, livestock, and domestic fowl but will readily eat carrion and plants. A coyote will adjust its diet depending on the food that is available.
Coyotes range in color from near black to off-white. Coyotes in the southwest deserts are the smallest and the lightest in color, whereas those in the northern forests are the largest and darkest. Colorado coyotes are usually rust colored with white or gray throat and belly.

Like other predators, coyotes vary in size. The males are larger than the females. The average size of a coyote is 37 inches long and 18 inches high. Their weight varies from 20 to 50 pounds.

Coyotes may be the most vocal of all land mammals. Although most people are familiar with the coyotes howl, the animal actually has a language which incorporates a variety of sounds. They have long clear calls in addition to barks and yips. Their vocalizations are designed to bring individuals together or let other coyotes know their location.
---