Storm Mountain News
Local News
Friday, September 29th - Fire Burning Near Carter Lake...
A fire is currently burning in an area reported to be southeast of Carter Lake in grass and little timber, so far. At last report, it is said to be approximately 15-20 acres and growing.
Berthoud Fire Department and Larimer Co. Sheriff's Office Emergency Services have responded and are on the fire. One Single Engine Air Tanker has been working the fire and a second "SEAT" is ordered.
There is no current word on mandatory or voluntary evacuations. Evacuation notices themselves will be made with our emergency phone notification system ("reverse 9-1-1"). No further information is available at this time.
5:00PM Update: Our latest information is that the fire remains at approximately 20-25 acres. There were two home evacuations as a precaution in the Bertha Ridge Road area, but the homes were eventually not threatened. It is presumed the home owners have returned.
There are two and possibly three SEAT (Single Engine Air Tankers) working this fire as well as many engines from several agencies. Officially, containment has been estimated at around 30-40%, but grass fires may often stop abruptly even in the absence of fire line and thus this does not mean we have a majority of the fire actively spreading.
The Roosevelt Hot Shot Fire Crew will be coming in to assist shortly and resources will be on scene all night, but the situation seems to be much improved. Movement / fire growth has not been too much of an issue and Incident Command seems optimistic.
In the absence of a much altered situation from what has just been reported, this will probably be the last entry regarding this fire located to the southeast of Carter Lake.
---
Wednesday, September 27th - Northern Colorado Birding Fair...
Crazy about birds, or just curious? Come spend a free day of fun and learning at the second annual Northern Colorado Birding Fair at Larimer County's Fossil Creek Reservoir Regional Open Space on Saturday, October 7th.
The fair begins with guided birding walks at 7:00am. The Rocky Mountain Raptor Program will release a rehabilitated raptor at 8:00am.. Kid-friendly booths, hands-on activities, presentations, and birding walks continue until the event culminates with a second raptor release at 1:00pm.
Compete in the Bird Olympics, try to make a bird nest or get through Bird Hurdles. Go on an intermediate or beginner bird walk and scavenger hunt (binoculars available, or bring your own). Listen to presentations for all ages from experts in the field or a great storyteller. No matter what tickles your fancy, birders young and old, first-timers to experienced, will find something at this event to fit the bill. Sponsors will show the latest in bird viewing equipment and resource materials. Food will be available for sale from 10:00am - 1:00 pm.
Entry to this event is free for everyone. T-shirts will be given away to the first 150 children 12 years of age or under to complete their passport by visiting all of the booths. Door prizes will be given away hourly. Friends of Larimer County Parks and Open Lands will provide free Daz Bog coffee from 8 a.m. - 10 a.m.
The event will be held at Fossil Creek Reservoir Regional Open Space which is located on Carpenter Road, 1-mile west of the I-25/Hwy 392 Windsor exit. For more information call (970) 679-4534.
---
Sunday, September 24th - Photo Of The Week...
This week's photo appropriately features the wonderful Fall colors along CR 41H, a currently prevalent sight throughout the Northern Colorado region.
Every autumn across the Northern Hemisphere, diminishing daylight hours and falling temperatures induce trees to prepare for winter. In these preparations, they shed billions of tons of leaves. In certain regions, such as our own, the shedding of leaves is preceded by a spectacular color show. Formerly green leaves turn to brilliant shades of yellow, orange, and red. These color changes are the result of transformations in leaf pigments.
The green pigment in leaves is chlorophyll. Chlorophyll absorbs red and blue light from the sunlight that falls on leaves. Therefore, the light reflected by the leaves is diminished in red and blue and appears green. As this chlorophyll breaks down with the colder temperatures of Fall, remaining pigments become more dominant.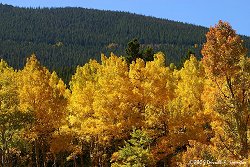 If the leaf contains carotene, as do the leaves of aspen, birch and hickory, it will change from green to bright yellow as the chlorophyll disappears. In some trees, as the concentration of sugar in the leaf increases, the sugar reacts to form anthocyanins. These pigments cause the yellowing leaves to turn red. Red maples, red oaks, and sumac (above photo) produce anthocyanins in abundance and display the brightest reds and purples in the autumn landscape.
The range and intensity of autumn colors is greatly influenced by the weather. Low temperatures destroy chlorophyll, and if they stay above freezing, promote the formation of anthocyanins. Bright sunshine also destroys chlorophyll and enhances anthocyanin production. Dry weather, by increasing sugar concentration in sap, also increases the amount of anthocyanin. So the brightest autumn colors are produced when dry, sunny days are followed by cool, dry nights.
For more images of this year's Fall colors throughout Colorado, be sure to visit the CBS News 4 "Colorado Colors" website, via the link provided below.
---
Saturday, September 23rd - SMN Endorses Angie Paccione For Congress...
Storm Mountain News announced today that they are officially giving their endorsement to Angie Paccione (D) for the 4th District of Colorado seat, in the United States Congress.
"We are not in the practice of endorsing political candidates and this is the first time we have ever done so", stated SMN owner Darrell Spangler. "It was the unanimous agreement of our staff that this endorsement was an exception. We strongly feel a change is needed in Congress and that Paccione offers the best ideas and direction for that change and will better represent the values, viewpoints and opinions of the People of Colorado in Washington, D.C.."
This unusual decision to endorse a political candidate was reportedly made after reviewing the voting record of incumbent Marilyn Musgrave (R), and the overall direction the current administration is taking America.
Spangler added, "We feel that Musgrave has failed to listen to her constituents and instead voted lockstep with George Bush throughout her past term, allowing him to run shotgun over America and the world, ignoring and violating both United States and International law along the way. This is unacceptable behavior for our leaders. Our hope is that new faces and ideas in Washington will return our great nation to its previously respected status as a world leader and pioneer of the future. The past six years have been some of America's worst, with the blame lying squarely on the current administration and the members of Congress, like Musgrave, who supported them."
SMN has confirmed that their publication will remain unaffiliated with any political party and will continue to present views and opinions, equally and impartially, from any and all candidates. Darrell Spangler is officially registered in Larimer County as "Unaffiliated", as are the majority of the SMN staff and associates.
---