CONTAMINATION TO PROPERTIES

ON STORM MOUNTAIN

KNOW THE TRUE FACTS!!!
Below is a factual, documented study on the adverse effects of the careless use of chemicals by a road maintenance crew, to a private homeowner and his property, as well as public lands and waterways. All of the information contained in this study is fully documented with the results of research and testing performed by highly accredited institutions.
---
HISTORY: During 2003 and 2004 the "Cedar Park Road Maintenance Corporation" and "Cedar Springs Improvement Association" applied a combination of Magnesium chloride, Lignin sulfonate, and recycled asphalt to Forest Development Road 128 in the Roosevelt National Forest of Northern Colorado. The resulting runoff from this mixture was confirmed in 2004, in testing performed on samples taken of residual sludge left behind on private property adjacent to the road by runoff from FDR 128, to contain extremely high amounts of Arsenic, Barium, and Chromium. From 2003 to present several mature trees on the property have died and are dying. A necrospy performed in May of 2005 on a deceased dog that resided on this property confirmed the presence of Arsenic in both the kidneys and liver of the animal. As of June 15th, 2005 the United States Forest Service, Larimer County Health Department, and others are completely ignoring the facts and the confirmed presence of these hazardous substances, and citing information from irrelevant studies on the limited use of Magnesium chloride as a deicer. The issue of mixing chemicals and their application to recycled asphalt resulting in the release of toxic, heavy metals has never been addressed by any entity, other than the affected homeowner and a community news site. The responsible parties are also currently ignoring the facts, that clearly show the negative results of their careless actions, and are planning to dump more of the same chemical mixture onto the Forest Development Road shortly.
---
THE FACTS: After several large trees and all of the shrubs in the path of the runoff from the Forest Development Road started dying, the homeowner carefully collected samples of the residual sludge in sterile containers for testing. The samples were taken immediately to Stewart Environmental Consultants who performed the requested analysis on the samples of the residual sludge. The results of these extremely accurate tests revealed the following chemicals presence in the residual sludge:
ARSENIC 224 PPM 22,400 times the EPA Standard for Drinking Water, 0.01 PPM
BARIUM 958 PPM 479 times the EPA Standard for Drinking Water, 2.0 PPM
CHROMIUM 25.4 PPM 254 times the EPA Standard for Drinking Water, 0.1 PPM
In the Spring of 2005, a Black Lab that resided on the property became extremely ill and subsequently died in late May. A necroscopy was performed on the animal by Colorado State University to determine the exact cause of death and the presence, if any, of chemicals in her organs. This was done as the dog was known to have been heavily exposed to the chemical laden runoff during 2003 and early 2004, prior to knowledge of the toxic chemicals running onto the property. The necrospy and subsequent toxicology has revealed the following:
CAUSE OF DEATH - EXTENSIVE INTESTINAL CANCER
TOXICOLOGY* - ARSENIC PRESENT IN LIVER AND KIDNEYS
*BARIUM AND CHROMIUM RESULTS NOT AVAILABLE AS OF 06/15/05
---
THE DAMAGE: Below are a few photos showing the contamination occurring and the extent of the damage to the property and beyond. WARNING: The last two photos are very graphic!
Runoff from FDR 128 running freely thru property in 2003

Foaming on property from force of runoff flow

Runoff carving ditches through private property in 2003

Runoff from FDR 128 hundreds of feet from road

Stream of residual sludge left behind by runoff

Thick pools of black oily sludge are left on property

Foaming in one of many chemical laden deposits
The residual was very thick and viscous
Sheen of oily residual sludge on private property in 2004
Samples of the sludge were gathered in sterile containers
Oily sludge in 2005, one year after last application
Pool of standing chemicals near bus stop for children
Close-up of contaminated pool of standing water
Foam builds to over 2' tall in National Forest stream
Extreme foaming due to surfactants in runoff
A stream of foam from FDR 128 in Big Thompson River
Foam from FDR 128 runoff coats surface of lake
behind Idlewylde Dam on June 4th, 2005
Dead fish were reported being removed from this area by
a "City of Loveland" worker.
Photo taken June 16th, 2005 of chemicals on property a year after their last use on FDR 128
Chromatic sheen of oily sludge on property. Photo taken
on the afternoon of June 16th, 2005
Mature tree showing effects of contamination. This tree is healthy otherwise with no signs of Pine Beetle infection
Young new growth exhibiting the same distinctive orange coloration to the dying tree's needles after exposure
Junipers, Cedars and other shrubs are also being effected
Cross section of branch showing no sings of Pine Beetles
Deceased family pet "Ali" resided on contaminated property
Arsenic was found in the liver and kidneys of the animal
---
THE THREAT: As you read this information, contamination is continuously flowing into National Forest waterways and the protected waters beyond. This will continue for years or until proper cleanup measures have been taken, and this type of chemical mixing outlawed entirely. The recent appearance of a, "Wasting Disease", type illness in local deer and elk, dead fish and aquatic life in affected streams, and small animals and birds coated with chemical sludge indicate the possible adverse effects to area wildlife. There is an extreme threat to the Greenback Cutthroat Trout in the Big Thompson River as these chemicals are known to disrupt the oxygen level in water. Other adverse effect could include sterility which could potentially wipe out the entire species in that area. Horses have been and are being moved from the contaminated property, as they are exhibiting classic signs of Arsenic poisoning. Should the Arsenic and/or other of the toxic chemicals be present in the dust from the road, the risk of exposure to humans and animals via airborne particles would be high to imminent. Due to the geology of the area, and the vertical foliation of the strata, contamination to groundwater is also a major concern.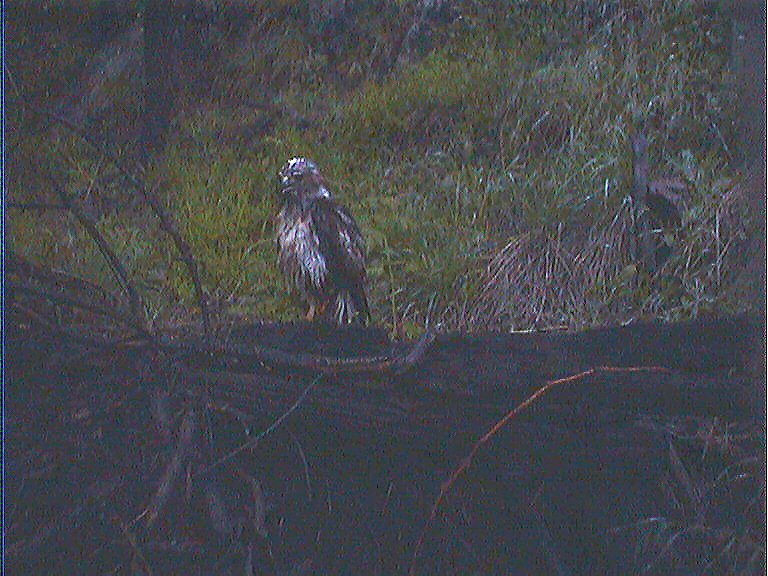 Photo of Red-tailed Hawk covered in oily foam from runoff along FDR 128 on June 3rd, 2005
---
WHO TO CONTACT: Below is a recommended list of individuals and organizations to contact if you are concerned over this type of chemical contamination to public and private lands in Larimer County, and the health hazard it presents for animals as well as humans. All of these entities have received a link to this site.
Linda Sue Torgerson
Northern Zone Engineering Program Manager
United States Dept. of Agriculture
1311 S College Ave
Fort Collins, CO 80524
970-498-2715
ltorgerson@fs.fed.us
Tom Gonzales
Senior Environmental Health Specialist
Larimer County Dept of Health and Environment
1601 Brodie Avenue
Estes Park, CO 80517
970-577-2051
tgonzales@larimer.org
Dale Miller
Larimer County Roads and Bridges
P O Box 1190
Fort Collins, CO 80524
970-498-5650
dmiller@larimer.org
Larimer County Board of County Commissioners
200 W Oak Street
P O Box 1190
Fort Collins, CO 80522-1190
970-498-7010
E-mail ALL Commissioners
EPA Region 8 Office
999-18th St. Suite 300
Denver, CO 80202-2466
U.S.A.
303-312-6312
1-800-227-8917 (Region 8 states only)
http://www.epa.gov/region08/feedback
CO Senator Steve Johnson
Assistant Minority Leader
Colorado State Senator, District 15
Office Location: 200 E. Colfax
Denver, CO 80203
Capitol Phone: 303-866-4853
steve.johnson.senate@state.co.us
U S Senator Wayne Allard
521 Dirksen Senate Office Bldg.
Washington , D.C. 20510
202-224-5941
senator_allard@exchange.senate.gov
U S Senator Ken Salazar
702 Hart Senate Office Building
Washington, D.C. 20510
202-224-5852 main
202-228-5036 fax
Senator_Salazar@salazar.senate.gov
Sierra Club
Rocky Mountain Chapter
1536 Wynkoop Street, 4C
Denver CO 80202
303-861-8819
steve.welter@rmc.sierraclub.org
Secretary Gale A. Norton
U.S. Department of the Interior
1849 C Street, NW
Washington, DC 20240
202-208-3100
webteam@ios.doi.gov

Colorado Source Water Assessment and Protection
Colorado Dept. of Public Health and Environment
4300 Cherry Creek Drive South
Denver, CO 80246-1530
Phone: 303-692-3500
comments.wqcd@state.co.us
Doug Ryan
Larimer County Environmental Advisory Board
dryan@larimer.org
---
REFERENCES: Below are links to documents and institutions whose information was used in the preparation of this study. The "Irrelevant Study/Documents" were passed out to residents by the associations, at a community meeting on June 12th, 2005. No reference is made in either of the study/documents as to the mixing of chemicals, and/or their use on recycled asphalt. Therefore, these documents are irrelevant to this particular situation.
---
LINKS: Below are additional informational links to documents and studies pertaining to the use, and the health and environmental effects, of Magnesium-chloride both as dust control and as a deicer. The information contained in these documents and studies is from outside sources, and was not used in the above study.
---
arsenic barium chromium contamination toxic heavy metals Larimer Drake Colorado Roosevelt National Forest pollution watershed Big Thompson North Fork James Bedwell Linda Torgerson Tom Gonzales Ed Schemm arsenic barium chromium contamination toxic heavy metals Larimer Drake Colorado Roosevelt National Forest pollution watershed Big Thompson North Fork James Bedwell Linda Torgerson Tom Gonzales Ed Schemm arsenic barium chromium contamination toxic heavy metals Larimer Drake Colorado Roosevelt National Forest pollution watershed Big Thompson North Fork James Bedwell Linda Torgerson Tom Gonzales Ed Schemm arsenic barium chromium contamination toxic heavy metals Larimer Drake Colorado Roosevelt National Forest pollution watershed Big Thompson North Fork James Bedwell Linda Torgerson Tom Gonzales Ed Schemm arsenic barium chromium contamination toxic heavy metals Larimer Drake Colorado Roosevelt National Forest pollution watershed Big Thompson North Fork James Bedwell Linda Torgerson Tom Gonzales Ed Schemm arsenic barium chromium contamination toxic heavy metals Larimer Drake Colorado Roosevelt National Forest pollution watershed Big Thompson North Fork James Bedwell Linda Torgerson Tom Gonzales Ed Schemm Storm Mountain