Saturday, January 8th - High Winds Continue Across Area... High winds which began last night are continuing to blow across our area this morning... Gusts estimated at over 70mph have been reported in the Storm Mountain area... Residents are advised to secure loose outdoor items such as patio furniture and trash, and to use caution if driving in the area today as these high winds can easily grab high profile vehicles resulting in a loss of control by the driver... No official watches or warnings have been issued as of 9AM MST...
---
Friday, January 7th - SMERT Meeting Saturday, Jan 15th... The "Storm Mountain Emergency Response Team (SMERT)", will be holding a community meeting at 9:30AM on Saturday, January 15th... The focus of the meeting is to discuss plans for the coming year and to inform residents of safety measures they can take to minimize the risk of a fire at their home... Lt. Dave Legits, LFD, will speak on "Fire in the Home"... The meeting will be held at the home of Ed Haimes, 1429 Spruce Mountain Drive... For directions and/or more information call: 970-593-1091...
---
Thursday, January 6th - Great Opportunity To See Comet Machholz... Weather permitting, residents will have a great opportunity to see Comet Machholz in our evening sky starting tonight... It will be located almost just slightly south of directly overhead at 9pm and very close to the prominent Pleiades Cluster of stars tonight, and will appear to pass directly through the Pleiades tomorrow night... Binoculars will greatly enhance the view and reveal the beautiful tails... Comet Machholz will not return to our part of space for nearly 11,000 years, so this truly is a once in a lifetime chance to see this visitor from afar... Below are photos of the comet taken last night here on Storm Mountain around 8PM...
County To Hold 2 Day Tsunami Fundraiser... Larimer County will hold a fundraising event to benefit the victims of the South Asian Tsunami on Thursday, January 13th and Friday, January 14th... The event is a 2-day fundraiser featuring 15-minute chair massages, donated by the Healing Arts Institute in Fort Collins... Donations are accepted for the massages and all proceeds will go to the tsunami victims through the regional Centennial Chapter of the American Red Cross... Walk-Ins are welcome, although County employees, as well as the general public, can sign up and reserve a time... Complete information can be found via the link provided below...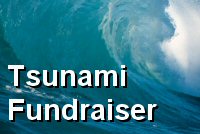 ---
Wednesday, January 5th - Slip Sliding Away On FDR 128... Workers delivering firewood to a resident on Storm Mountain got first-hand experience at just how slick our roads can get... While coming up Railsback Hill, the truck and trailer slid off the shoulder and into a ditch along the roadway... Pry bars and the help of passers-by eventually freed the vehicle which had lodged on some large rocks... The truck pulling the trailer had no chains or studded tires...It was eventually pulled back onto the road by a local resident with adequate tires...
Frigid Temperatures Throughout Area... Local residents woke up this morning to near zero temperatures across our area... These cold temps in combination with Tuesday's snow has created icy, snow-packed roads and dangerous driving conditions... Residents are advised to use extreme caution if traveling today... FDR128 is currently reported as snow-packed with icing at the usual spots... The switchbacks are especially dangerous with 4wd and/or chains or adequate snow tires strongly recommended... Both Big Thompson and Estes Park schools are open...
Prescribed Burn Today At Horseshoe Mountain Park... The Larimer County Parks and Open Lands Department staff will conduct slash pile burns on Wednesday, January 5, 2005, at Horsetooth Mountain Park west of Fort Collins... The pile burns are part of an on-going wildfire mitigation/forest health project in the Park, involving mechanical thinning and hand piling tree limbs and dead material... The slash piles will be burned when there is at least 3 inches of snow on the ground to prevent fire spread... An interagency team of trained firefighters will conduct the burns in accordance to Larimer County Burn Permit Regulations... Smoke from the burning piles will be visible from Fort Collins, Loveland and along the Northern Front Range... Please do not call 911 or your local law enforcement, as they are already aware of burns... If you have any questions, please contact Mark Caughlan at 970-498-5600...
---
Tuesday, January 4th - Winter Weather Advisory Continues... The National Weather Service in Denver is continuing a "Winter Storm Advisory" for the front range foothills and northeast plains, including the Storm Mountain, Drake and Glen Haven areas, until 12PM MST on Wednesday... Snow is expected to continue through the day with cold and wind combining to create hazardous driving conditions throughout our area... 5 to 12 inches of accumulation is expected by noon Wednesday... If you must travel, extreme caution should be used... It is recommended that travelers carry a 'Winter Survival Kit" in their vehicle... Local roads are currently snowy with some ice on FDR 128... Fog and freezing drizzle has also been reported... Residents of the Storm Mountain area are advised to use 4WD, chains and/or adequate studded snow tires... Updates will be posted as conditions develop...
New County Officials To Be Sworn In... On Tuesday, January 11 three new County officials will be sworn into office... They are Larry Abrahamson, District Attorney, and Glenn Gibson and Karen Wagner, County Commissioners... The swearing-in event takes place at 8a.m. in the Hearing Room, 1st floor, of the Larimer County Courthouse Offices Building, 200 West Oak Street, Fort Collins... Chief Judge James Hiatt will preside. A reception follows the ceremony... A public farewell reception honoring outgoing Larimer County Commissioner Tom Bender is set for Friday, January 7, from 2-4p.m. in the Hearing Room, 1st floor, Larimer County Courthouse Offices Building, 200 West Oak Street, Fort Collins...
---
Monday, January 3rd - Winter Weather Advisory Issued For Tuesday... At 3:29PM MST, the National Weather Service in Denver issued a "Winter Weather Advisory" for the northeast plains and front range foothills, including the Drake, Storm Mountain and Glen Haven areas, effective from 9AM MST on Tuesday, Jan 4th through 12PM MST on Wednesday, Jan 5th... SNOW WILL SPREAD ACROSS THE AREA AROUND SUNRISE TUESDAY MORNING. BY THE TIME THE SNOW DECREASES WEDNESDAY MORNING... ACCUMULATIONS OF 4 TO 8 INCHES CAN BE EXPECTED... A WINTER WEATHER ADVISORY MEANS THAT A COMBINATION OF SNOW AND COLD TEMPERATURES WILL CREATE DIFFICULT TRAVEL CONDITIONS... ROADS WILL BECOME SNOW-PACKED AND ICY... Snow is expected to start after midnight tonight with 3 - 6 inches currently expected in our area... This will be accompanied by some of the coldest temperatures of the season to date, making travel conditions extremely hazardous... The complete official text of this advisory can be found below...
Winter Storm Watch Issued Tuesday through Wednesday Morn... The National Weather Service in Denver has issued a "Winter Storm Watch" for the northeastern Colorado plains and foothills, including the Drake, Storm Mountain, and Glen Haven areas, effective from 6AM MST Tuesday morning through 6AM MST Wednesday morning... THIS IS A WATCH AND NOT A WARNING! SNOWFALL AMOUNTS OVER THE PLAINS COULD RANGE FROM 3 TO 8 INCHES BY EARLY WEDNESDAY AFTERNOON. THE FOOTHILLS ABOVE 6000 FEET COULD SEE 4 TO 10 INCHES DURING THAT PERIOD... REMEMBER, A WINTER STORM WATCH MEANS CONDITIONS ARE FAVORABLE FOR A HAZARDOUS WINTER WEATHER EVENT IN AND CLOSE TO THE WATCH AREA...
---
Sunday, January 2nd - Quadrantid Meteor Shower Peaks Early Monday Morning... The annual "Quadrantid Meteor Shower", is expected to peak in the early morning hours of Monday, January 3rd... Rates of from dozens to hundreds of meteors per hour are anticipated... Quadrantid meteors take their name from an obsolete constellation, Quadrans Muralis, found in early 19th-century star atlases between Draco, Hercules, and Bootes... It was removed, along with a few other constellations, from crowded sky maps in 1922 when the International Astronomical Union adopted the modern list of 88 officially-recognized constellations... The Quadrantids are best seen looking to the east-northeast after midnight with the peak predicted for 3:20AM MST... A sky map is provided below...
---
Saturday, January 1st - Tsunami Relief Source Link Added... In the wake of the devastating Tsunamis that recently struck Asia, millions of people are now homeless and in desperate need of food, water, and medical supplies quickly... We have therefore added a link to "Google's Tsunami Relief Page"... Many residents who remember our "Bobcat Gulch Wildfire" back in 2000, know well how important even a tiny bit of aid can be... The magnitude of the Tsunami disaster is on a scale never seen before with millions likely to perish if aid is not provided soon... If you have the ability, we ask that you please donate to one of the many organizations currently working in the worldwide relief effort... Below, and in our left side-bar, you will find a link to some of these organizations...
Comet Machholz Ushers In 2005 New Year... Recently discovered Comet Machholz is promising to put on a very nice display for sky watchers the next few weeks... With the comet brightening, residents should soon be able to see Machholz quite easily on a dark night... January 7th will be an evening to look as the comet will be directly overhead in the Pleiades Cluster at 10pm local time... Below is a map showing the location of Comet Machholz on Jan. 7th, and a photo taken as the 2005 New Year started... Two tails are now visible with the one heading left being the ion tail from the Solar Wind, and the one heading to the right being the dust tail following in the comet's orbit...
---
---
---
News posts from previous weeks are located in our "News Archive" which can be found by clicking the button below:
---
Storm Mountain Net