Sunday, February 13th - Photo Of The Week... This week's photo features a long time resident of Storm Mountain, Dex, relaxing in last weeks snow... Dex is a, "Siberian Husky", who absolutely loves the snow and cold... He is very friendly and loves children... One of his favorite activities is pulling the kids on sleds in the backyard...
---
Saturday, February 12th - Online Access to Special Events Permit Applications... Permits are required for any Special Event such as a rally, race, or march, using County roads or parks... New requirements also specify a permit must be obtained for any event on private land expected to attract more than 300 people... Permits applications must be submitted a minimum of 45 days before the event... Applications for these permits and information about submitted applications is now available online... For more information click on link below...
---
Thursday, February 10th - Sylvan Dale Guest Ranch Recognized for Conservation Efforts... A recognition award for stewardship of the environment and conservation efforts was presented to the owners of, "Sylvan Dale Guest Ranch", by the "Larimer County Open Lands Program" at their monthly Open Lands Advisory Board meeting in Loveland on January 27th... The Larimer County Open Lands Program honored Sylvan Dale Ranch as a ranching business managed by individuals who promote stewardship of the environment through practice, demonstration and education... "This recognition award is so important not only because this family deserves to be recognized for their tremendous efforts in conservation, but because what they've achieved is an excellent example of how land preservation can be a viable financial option for working agricultural operations," said K-Lynn Cameron, Larimer County Open Lands Manager... Accepting the award on behalf of Sylvan Dale Ranch and the Jessup Family were Susan Jessup, husband David Armstrong and matriarch Mayme ("Tillie") Jessup... Over half (1,865 acres) of their ranch has been protected with conservation easements and protective covenants through the "Larimer County Open Lands Program", the "Legacy Land Trust", and the "Larimer County Rural Land Use Center" over a period of six years... The Jessups have donated over $1.3 million in land value towards these conservation efforts... The Jessups have also practiced and demonstrated stewardship to the environment through enhancing wildlife habitat and participating in educational and outreach events to show that ranching and stewardship of the environment go hand-in-hand... "The owners at Sylvan Dale Ranch have a long-term vision for their lands... Thanks to them, the mouth of the Big Thompson Canyon will be protected from development forever... We look forward to continuing this rewarding partnership," commented Peter Kast, Chairman of "Larimer County Open Lands Advisory Board"... Sylvan Dale Guest Ranch is a dude ranch surrounded by the beauty of the Rocky Mountains, the Big Thompson River and rolling hogbacks... It has been owned and operated since 1946 by the Jessup family, and operates as a year-round guest ranch and retreat center... The 3,200 acre ranch is located at the mouth of the Big Thompson Canyon on U.S. Highway 34, on the way to Estes Park and Rocky Mountain National Park...
911 Routing Reviewed By Loveland Dispatch... It was reported yesterday that a supervisor at the Loveland dispatch has reviewed the 911 routing of many telephone numbers in our area and has filed correction requests for those incorrectly routed... This review was due to diligent work by resident and Cedar Springs Homeowners Association Secretary, Karen Debenham, who contacted Loveland and requested the review... Karen is asking residents of Cedar Park and Cedar Springs to forward their phone number to her for validation by Loveland dispatch, and also for addition to the "SMERT" database... There are some numbers listed that have no address record associated with them... The residents who have those numbers need to contact "Qwest" to have their address updated... We cannot make those updates... The owner of the phone must request that change through "Qwest"... Attempts to contact these owners will be made as time allows... Many thanks to Karen for her work in getting this important community issue resolved... You can forward your information to Karen via email at: karen@debenham.com
---
Wednesday, February 9th - FDR 128 Closed Briefly... Forest Development Road 128 was closed for a short period of time this evening around 6PM as a towing service worked to free a ditched vehicle at the, "Keyhole", approximately 1/4 mile below Railsback Curve... The vehicle, a Jeep Liberty owned by Larimer County, slid sideways into the ditch after stopping to let another vehicle pass... The driver freed the vehicle only to have it slide immediately back in... A tow truck brought the vehicle back onto the roadway only to have it then slide into the ditch on the opposite side of the road... The vehicle was eventually freed and back on it's way... This section of road stays icy the majority of the winter as the steep hillsides allow little sunlight to reach the road surface... Residents are advised to use extreme caution while driving in this area and to stay alert for other vehicles possibly blocking the roadway...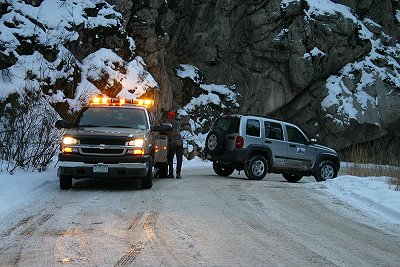 Tow truck pulling Jeep back onto road this evening... Note headlights shining on icy surface in front of truck...
Cadmium In Deicer Mag-chloride Linked To Human Cancer... Cadmium, contained in the street de-icer magnesium chloride, is a human carcinogen, according to the Tenth Annual Report of the U.S. Department of Health and Human Services... There is no safe level of cadmium -- a soft, silver-white metal -- upgraded from "Reasonably Anticipated to be a Human Carcinogen" to "Known to be a Human Carcinogen..." An Aspen Times series on mag-chloride said Aspen air has elevated levels of both cadmium and arsenic... Dr. Stephen Strum, founder of the Prostate Cancer Research Institute (PCRI) in Marina del Rey, Ca., told the Aspen Free Press: "Cadmium is definitely associated with prostate cancer risk..." When told that Aspen had used the street de-icer magnesium chloride containing both cadmium and arsenic, he said, "This is certainly cause for alarm..." Sterling Greenwood states, "When I was diagnosed with prostate cancer, the first question a physician asked me was, "Have you been around cadmium?" I didn't know it then but I had been wading through cadmium in mag-chloride applied to the streets of Aspen for several winters..." Mr. Greenwood, publisher-editor of the Aspen Free Press, has been battling prostate cancer for seven years... He and other residents of Aspen, Colorado campaigned successfully to end use of magnesium chloride on their roads... According to a report by the Occupational Safety and Health Administration (OSHA), "Because of the body's ability to accumulate and store cadmium over long periods of time, the loss of kidney function may develop even after a reduction or cessation of external cadmium exposure..." OSHA goes on to say, "exposure to cadmium causes cancer, kidney dysfunction, reduced pulmonary function, and chronic lung disease indicative of emphysema..." Of course these conditions don't occur overnight and most people can't tell by smell or taste that cadmium is present in air or water... Water which flows into rivers and streams from roads coated in cadmium-laced magnesium chloride to keep ice melted... High levels of Arsenic, Barium and Chromium IV were confirmed to be present in samples of sludge taken from a homeowner's property on Storm Mountain last year, deposited by run-off from FDR 128 after the use of Mag-chloride as a dust inhibitor (The brown, oily and highly corrosive slime on area residents' vehicles)... When dry, these chemicals are most likely being spread through airborne particles and are also most likely being inhaled by residents traveling the road for months or even years after it's application... It should be noted that, Cadmium was not detected in samples from Storm Mountain tested in 2004... This however does not fully rule out the possibility of it's presence on our roads and in our air and water... To read more about the link between cancer and MgCl2, click on link below...
Year Of The Rooster... As the second new Moon after the winter solstice came to pass last night, so marked the start of the Chinese New Year... According to the Chinese calendar, 2005 is the, "Year of the Rooster"... Chinese New Year is the main holiday of the year for more than one quarter of the world's population... Today is the first full day of the Chinese New Year, 4702...
---
Tuesday, February 8th - Rollover Accident In Big Thompson Canyon... At 2PM it was reported that emergency services from Loveland and Estes Park are currently responding to the scene of a multi-vehicle rollover accident on Hwy 34 near mile marker 62, just east of the Shenstone Cabins at 2451 Big Thompson Canyon... Injuries are being reported as well as a downed utility pole with wires on the ground near the scene... Residents are advised to allow extra time if traveling to or from Estes Park this afternoon as delays are likely in the area of the accident...
Snowy Start To Morning... Area residents had a snowy start to their day today with overnight snows dropping 1 - 2 inches across the Storm Mountain area... Roads are in fair condition with the usual slippery spots on the switchbacks and curves of FDR 128... Snow is expected to end this morning with partial sunshine by afternoon...
---
Monday, February 7th - 911 Calls Routed Incorrectly Throughout Area... It has recently been reported that 911 calls for the Drake/Storm Mountain area are being incorrectly routed by Qwest... Calls are apparently being routed to the Larimer County Sheriff's Department which is incorrect... The correct routing entity for 911 response in our area is the Public Safety Answering Point (PSAP), for the City of Loveland... Incorrect routing can result in delays in response time which could potentially be a matter of life and death in certain situations... This problem is thought to extend up the Big Thompson Canyon to Estes Park... Residents are advised to contact their telephone service provider to assure correct routing and address information, which is also said to be incorrect for many residents... If we as a community make it a point to inundate our phone companies with requests for where our 911 calls are routed, maybe they will see the pattern and correct the problem... You've heard it, "It's Qwest's Spirit of Service"... Premiere Telephone, which provides local area service over Qwest lines, is reported to currently be in litigations with Qwest over the incorrect routing issue...
Janet Reno To Speak At CSU Tonight... Former United States Attorney General, Janet Reno, is scheduled to speak tonight at the "Lory Student Center" of Colorado State University in Fort Collins... Ms Reno is expected to talk about her career in public service... The event starts at 7:30pm... Tickets are $5.50...
---
News posts from previous weeks are located in our "News Archive" which can be found by clicking the button below:
---
Storm Mountain Net