Sunday, March 13th - White Blankets Storm Mountain Area... Residents of the Storm Mountain area awoke today to a blanket of white covering the hillsides... A fast moving storm overnight dropped up to 6" across the area, a stark contrast to yesterday's sunny, 60° temperatures... While snowfall has all but stopped in our immediate area, a "Winter Weather Advisory", remains in effect until noon today... Area roads are reported as snow-packed... This is the first of three predicted snowstorms this week with the others expected on Wednesday and Friday...

Photo Of The Week... This photo taken on the Friday evening on Storm Mountain shows the crescent Moon, with Earthshine, against a spectacular Colorado sunset... Earthshine is sunlight reflected off our planet illuminating the dark side of the Moon... The sunset was courtesy of an approaching winter storm...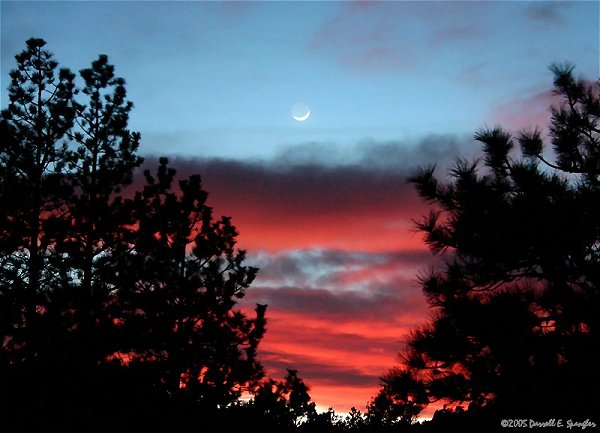 Crescent Moon and Earthshine against spectacular Colorado sunset on Friday evening
---
Saturday, March 12th - Winter Weather Advisory Issued For Sunday Morning... The National Weather Service is Denver has issued a "Winter Weather Advisory" for the front range foothills, including the Drake, Glen Haven and Storm Mountain areas, effective from 12AM MST Sunday through 12PM MST Sunday... SNOW WILL DEVELOP IN THE FOOTHILLS OF LARIMER COUNTY AFTER 9 PM AND THEN SPREAD SOUTHWARD INTO THE SOUTHERN FRONT RANGE FOOTHILLS AND PALMER DIVIDE AREA AROUND MIDNIGHT... THE SNOW WILL CONTINUE THROUGH SUNDAY MORNING BEFORE DIMINISHING BY NOON. TOTAL ACCUMULATIONS OF 4 TO 8 INCHES ARE EXPECTED... A WINTER WEATHER ADVISORY MEANS THAT A COMBINATION OF SNOW, WIND AND COLD TEMPERATURES WILL CREATE DIFFICULT TRAVEL CONDITIONS... ROADS WILL BECOME SLUSHY AND SNOWPACKED AFTER MIDNIGHT... The complete text of this advisory can be found via the link provided below...
---
Friday, March 11th - Peace Tree Gone But Not Forgotten... After CDOT on Monday morning cut down the now somewhat famous "Peace Tree", the issue did anything but die... Emails and comments have been pouring in from around the globe concerning the "Peace Tree" and it's future... Passersby have been placing flowers at the site where the tree once stood... On Tuesday evening "Peace Tree" owner, Paul Sterling, presented an offer of adoption to the City of Estes Park... The offer is under consideration with a decision expected next week... With the amount on attention the carving has received, Sterling stated that he was considering the possibility of transporting the tree form place to place for display at various functions and events across the country... Whatever the future holds for the "Peace Tree", it will most certainly be one of the most famous Ponderosa Pines ever... Complete information on the Peace Tree, including plans for it's future, can be found at: "www.thepeacetree.org"
---
Wednesday, March 9th - Storm Mountain Net's 1st Anniversary... Today marks one year of operation for Storm Mountain Net™ and The Storm Mountain News™... We are pleased to say that we are still growing and getting new visitors to the site daily... From local residents to folks in Australia, over 4000 people now have visited this site to get up-to-date information about our area... Thanks to all of you, we have been successful in our mission... Our wonderful community now has a "Voice"...
SMN is proud to share our 1st year's statistics as they are your statistics too!!!
Unique Visitors
Number of Visits
Pages
Viewed
Total
Hits
Total
Bandwidth
Totals
4,189
6,394
24,952
320,477
4.02GB
We need your help!!! In order to provide our community with a more diverse, accurate and widespread view of happenings in our area we are asking for more input from local residents about their feelings and thoughts on issues in our community... We would also like to know what you would like to see on the site... Recipe Exchange??? Resident of the Month??? Contest??? Message Board??? Local Chat Room??? Send us your ideas for improving our site and how to bring you more of what you want... Send your opinions, viewpoints and suggestions to: editor@stormmountain.net
---
Tuesday, March 8th - State Removes "Peace Tree"... On Monday morning at around 9:30 AM, CDOT workers cut down the "Peace Tree" removing it from it's birthplace and home for over 80 years... The tree is now laying next to the home of Paul Sterling, it's owner... The final fate of the tree is still in question... Sterling will take an offer of adoption to the Estes Park City Council this evening... If Estes does not want the tree the Sterling says he'll put it up for auction on eBay with the proceeds going to a peacekeeping organization... For complete information visit, "www.thepeacetree.org"...
| | |
| --- | --- |
| | |
| CDOT workers secure tree with front-loader | With tree secure CDOT workers cut along base |
| | |
| "Peace Tree" now laying on side of Sterling's home | The site where the "Peace Tree" stood for 80+ years |
Services This Afternoon For Berg Son - Services will be held this afternoon for Gerald Berg of Greeley who died last Saturday... Gerald, 61, was the son of long time Storm Mountain residents, Ray and Erlene Berg... He is survived by his parents, his son Clifton (Brett) Berg of Arvada and brother Raymond Berg Jr. of Brush... Visitation will be 11 a.m. to 1 p.m., Tuesday, March 8th, followed by a funeral service at 1 p.m., at Resthaven Funeral Home Chapel... Interment will follow the service at Resthaven Memory Gardens... In lieu of flowers, memorial contributions may be made to Hospice and Palliative Care of Northern Colorado in care of Resthaven Funeral Home, 8426 S U.S. 287, Fort Collins, CO 80525... We would like to extend our sincere condolences to Ray and Erlene, their family and their friends...
---
Monday, February 7th - Vandals Paint Stone Bears Orange... On Sunday evening around 8pm it was reported by an anonymous source that vandals had painted the "Stone Bears" in Cedar Park Subdivision on Storm Mountain with orange paint... Upon arriving at the scene it was found the bears were indeed vandalized and that road signs had been knocked over and painted, as well as real estate signs and Quest pedestals vandalized with the same orange paint... Damages are estimated to be hundreds of dollars... We find it very sad that some people have to stoop to such acts, whatever their reason for the vandalism may be... A report of the vandalism has been made to the, "Larimer County Sheriff's Department"...
| | |
| --- | --- |
| | |
| Photo taken around 9pm Sunday showing vandalized bear | Vandalized sign on corner of Snowtop and Palasade |
Gas Prices On The Rise... As oil companies continue record profits consumer prices are continuing to rise at the pump... Sunday prices in Estes averaged $2.19/gal for regular unleaded fuel... A few stations in the Loveland area were reported to be $1.99/gal... Part of the reason for these recent increases may be quite simply, greed... While citing fears of a shortage crude oil prices are reaching record highs at one point touching $55 a barrel... This, in the opinion of some, is just another way to rake in profits... As one area resident stated, "There is no oil shortage and this action based on fear a sham... Oil companies have been allegedly been buying crude at lower prices and holding it in storage tanks until the consumer price rises... The oil is then released making for tremendous profits in the oil industry... But with the oil industry's poster children in the White House, it is easy to understand how this type of price gouging and stockpiling of oil is allowed... A government truly for the people would have ended this type of market manipulation immediately"...
Fuel Prices in Estes Park well over the $2.00/gal mark
---
News posts from previous weeks are located in our "News Archive" which can be found by clicking the button below:
---
Storm Mountain Net