__________________

Homeland Security
____________________
____________________
__________________


"The Storm Mountain Incident"
Pollution of our
National Forest Streams

(Requires Free PowerPoint Viewer available here)
__________________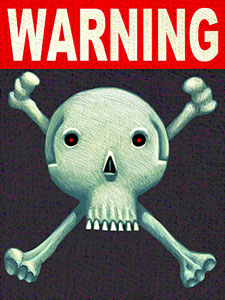 Contamination to Storm Mountain Properties
Click here for the facts!
__________________
__________________



__________________
__________________

Listen to this article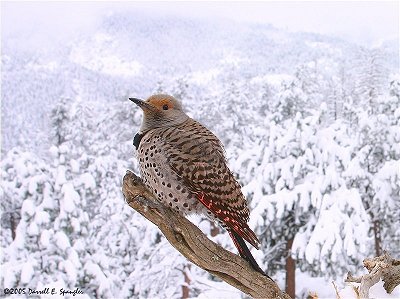 Red-shafted Flicker perched on branch over-looking the snow-covered hillsides of Roosevelt National Forest on Friday morning
Sunday, May 1st - Photo Of The Week... This weeks photo was taken on Friday morning and features our area's largest woodpecker, the "Red-shafted Flicker". The Red-shafted Flicker is one of two varieties of Flickers know as the "Northern Flicker", the second variety being the Yellow-shafted Flicker, which is mainly found in the eastern part of our country. Flickers a grey-brown in color, barred on top and spotted underneath, with yellow or red patches on it's wings obvious in flight. The Northern Flicker is one of the few North American woodpeckers that is strongly migratory. Flickers in the northern parts of the range move south for the winter, although a few individuals often stay rather far north. Although it can climb up the trunks of trees and hammer on wood like other woodpeckers, the Northern Flicker prefers to find food on the ground. Ants are its favorite food, and the flicker digs in the dirt to find them. It uses its long barbed tongue to lap up the ants.
---
Friday, April 29th - Winter Weather Advisory Extended To 10 AM MDT... The National Weather Service in Denver has extended the Winter Weather Advisory for our area until 10AM MDT today. SNOW SHOWERS WILL CONTINUE THIS MORNING WITH ADDITIONAL SNOW ACCUMULATIONS OF 2 TO 6 INCHES BEFORE DIMINISHING BY LATE MORNING. A WINTER WEATHER ADVISORY MEANS THAT A COMBINATION OF SNOW, WIND AND COLD TEMPERATURES WILL CREATE DIFFICULT TRAVEL CONDITIONS. Overnight snow accumulations of 12 to 18 inches are being reported. Roads are extremely hazardous with heavy snow-pack and icing in spots. Estes Park Schools are closed. No information on Big Thompson Schools is available at this time. Residents are advised to travel only if necessary and to use extreme caution if they must travel. This advisory has now expired.
---
Thursday, April 28th - Winter Weather Advisory In Tonight... The National Weather Service in Denver has issued a "Winter Weather Advisory" in effect from 6PM MDT tonight through 6AM MDT Friday, for all of Larimer County including the Drake, Storm Mountain and Glen Haven areas. AN UPPER LEVEL DISTURBANCE MOVING OVER THE STATE, COMBINED WITH A MOIST AND UNSTABLE AIRMASS, WILL ALLOW FOR MODERATE TO HEAVY SNOW SHOWERS TO DEVELOP TONIGHT. TOTAL SNOWFALL ACCUMULATIONS BY FRIDAY MORNING WILL RANGE FROM 4 TO 8 INCHES. A WINTER WEATHER ADVISORY MEANS THAT A COMBINATION OF SNOW, WIND AND COLD TEMPERATURES WILL CREATE DIFFICULT TRAVEL CONDITIONS. Recent warm temperatures have been keeping area roads from freezing. As temperatures fall tonight, icing is possible in some areas. Area residents are advised to use caution when traveling on secondary roads late tonight and tomorrow as heavy snow accumulations may cause driving difficulty. Current road conditions are wet with no snow-pack or ice being reported.
Spring System Brings Winter-like Weather To Area... A moist Spring storm system brought winter-like conditions to our area Wednesday night. Snowfall amounts up to 6 inches have been reported with more snow expected this afternoon and evening. More seasonal weather is expected to return this weekend with temperatures rising into the 60's with mostly sunny skies. Once again, we are grateful for this moisture be it snow or rain, as it will ease early season fire danger substantially. Area roads are all reported as wet with 40°+ temperatures preventing icing at this time. Residents are advised to stay alert for possible weather advisories or warnings, particularly this afternoon and evening, as the potential for heavy accumulations during that period exists. No official watches, warnings, or advisories are currently in effect for our immediate area.
Sheriffs Make Arrests In Identity Theft Case... Larimer County Sheriff's Office off duty Investigator Steve Holloway, while shopping at Super Walmart in Fort Collins, recognized Mary Elizabeth Lozano. Holloway further noticed that Lozano was writing a check that belonged to another person. The information was relayed to other deputies who then were able to enact a car stop at the intersection of Maple Street and College Avenue. Mary Elizabeth Lozano, of Fort Collins, was arrested for Forgery, a Class 5 Felony, Criminal Impersonation, a Class 6 Felony and two counts of Theft, both misdemeanors. Lozano is being held on a $7500 bond. Lozano, at the time of this arrest, was on probation for a similar previous offense. The driver of the car, Dawn Payton, of Fort Collins, was arrested on an outstanding warrant for Failure to Appear for Controlled Substance. Payton is being held at the Larimer County Detention Center with no bond. James Douglas, of Fort Collins, another occupant of the vehicle, was arrested for Criminal Possession of Forged Instruments. Douglas is being held at the Larimer County Detention Center on a $7500 bond. Based on information obtained following the arrest of Mary Lozano, a search warrant was executed at Budget Host Motel in Fort Collins, on North College Avenue, where additional stolen property was recovered. Arnulfo Lozano, was arrested at that location for outstanding warrants for Failure to Appear on Theft of Rental Property and Driving while Suspended, Revoked or Denied. Lozano is being held at the Larimer County Detention Center on a $2200 bond. The investigation is continuing into other associates involved with this activity.
Identity theft is the fastest growing crime in the nation. The Larimer County Sheriff's Office would like to remind citizens to mail checks directly at the Post Office and to monitor bank and credit card statements closely. It is highly recommended that citizens also make use of locking mailboxes to prevent their incoming mail from theft.
---
Wednesday, April 27th - Views Of Larimer County Seniors To Be Represented In Washington... The views of Larimer County seniors will be represented in Washington D.C. this fall at the White House Conference on Aging (WHCOA). The conference, held every ten years, addresses key issues of older adults and develops policies on aging services. A series of local forums and a Denver, Colorado conference will bring Larimer County views to the table. The views of older adults in Larimer County are being gathered through a series of public forums, and by seeking the recommendations of community advisory boards representing the special needs and interests of seniors. Meetings held earlier this month in Fort Collins and Wellington listed the spiraling cost of health and the changing structure of the family as key issues. Anyone interested in aging issues and policies is encouraged to attend.
The following public forums are in May:
· Loveland Senior Advisory Board - May 4, 10:45a.m, Loveland Library, 300 N Adams Avenue, Loveland.
· Estes Park Senior Center - May 10, 10:00a.m., 220 4th Street, Estes Park.
· Berthoud Senior Center - May 12, 10:00a.m., 248 Welch Avenue, Berthoud.
Forum participants will identify key issues, and then recommend actions and solutions, which will then be shared at the Colorado Governor's White House Conference on Aging in Denver on June 23. Larimer County can send 12 delegates to the Denver conference, ensuring that local voices are heard. All of Colorado's recommendations will be presented to the President and Congress at the National White House Conference on Aging, October 23-26, 2005, in Washington D.C. For more information, please contact Lynette McGowan at the Larimer County Office on Aging, 498-6807, lmcgowan@larimer.org.
---
Disclaimer: Stories and other content are submitted by independent sources and do not represent the opinions or views of Storm Mountain Net, nor it's employees... All stories are posted without bias to their content... While every attempt is made to be concise in our reporting, Storm Mountain Net is not responsible for any incorrect information...