__________________

Homeland Security
____________________
____________________
__________________


"The Storm Mountain Incident"
Pollution of our
National Forest Streams

(Requires Free PowerPoint Viewer available here)
__________________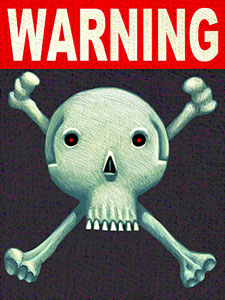 Contamination to Storm Mountain Properties
Click here for the facts!
__________________
__________________



__________________
__________________
Sunday, May 8th - Photo Of The Week... This weeks photo was once again features one of our areas larger birds, the Steller's Jay. The, "Steller's Jay", is related to its eastern cousin the Blue Jay with a similar distinctive crown on the head. A prominent bird throughout the west, Steller's Jays are members of the Crow family and exhibit a very similar temperament and behavior. Like other jays, the Steller's Jay consumes a wide variety of foods, including small vertebrates and arthropods, seeds, berries, nuts, and especially acorns and pine seeds when available. They commonly take the eggs and nestlings of small birds, and they have even been observed attacking and eating adult birds. In turn, Stellerís Jays are heavily preyed upon by hawks and other accipters. Normally a shy and wary bird that feeds mostly in treetops, the Stellerís Jay can become accustomed to humans at campgrounds and picnic areas.
---
Wednesday, May 4th - Peace Tree Benefit Concert Gains Momentum... The, "1st Annual Peace Tree Benefit Concert", has recently gained substantial momentum. What started as a dead tree, has now grow into a quite alive project with a, "Benefit Concert", to be held Memorial Day Weekend, in honor of the Peace Tree. The event, which is to be held at Mishawaka Amphitheatre on May 29th, is now being sponsored by many local media agencies and local merchants. The addition of, "Wendy Woo", to the performing artists list was also recently made. Storm Mountain News is proud to be a top level sponsor of this non-profit event. As of this morning the list of sponsors is as follows:
| | |
| --- | --- |
| Storm Mountain News | KRFC 88.9FM |
| Language of Peace | The Rocky Mountain Bullhorn |
| Mishawaka Amphitheatre | Jim Morris Environmental "T's" |
| The Estes Park News | The Greenbriar Inn |
| The Estes Park Trail Gazette | Estes Park Mountain Shop |
| The Fort Collins Forum | Rocky Mountain Health Club |
| The Fort Collins Weekly | Motherlode Gallery |
| Nepal Tibet | Bike Against! |
| Fort Collins Food Co-op | Craftsmen in Leather |
| Griller's Global Cafť | Poster It |
All proceeds from this event are being donated to organizations supporting Peace and our Veterans. Complete information on this event, including ticket sales info, can be found by visiting, "www.ThePeaceTree.org"
---
Tuesday, May 3rd - Sixth Annual Road Cleanup Set For Saturday... The Cedar Park and Cedar Springs Improvement Associations are scheduled to hold their sixth annual road cleanup of FDR 128 on this Saturday, May 7th. Residents wishing to help are asked to meet at the "T" at 9AM, and bring gloves, trash bags, and 4-wheelers or trucks. While 4-wheelers and ATVs are illegal on FDR 128, Larimer County Sheriff's Deputy Bartram, is reported to have personally authorized their use in this instance, and will make an exception to the law. Previous year's cleanups have produced some interesting items such as in 1999, a drive shaft; in 2000, a toilet; in 2001, a blow-up doll; in 2002, the vanity to match the toilet; and in 2004 a mattress. While this is an annual cleanup, many residents keep gloves and bags in their vehicles and pick trash up year round when they see it. It was suggested that if more residents would help in this way, there wouldn't be a full dump truck of trash collected yearly. The associations will also be accepting donations to help with landfill fees. In the event of bad weather the cleanup will be held on Saturday, May 14th at the same time and location. For more information please call: 970-593-1091
---
Monday, May 2nd - Assessor Mails Property Valuation Notices... Notifications of the new values on real property in Larimer County were mailed out on May 1st. Property owners can appeal those valuations by completing the form on the back of the Notice of Valuation or by visiting the Assessor's Office during the month of May. The deadline for filing appeals is June 1st. Colorado law currently requires a two-year reassessment cycle for all real property, 2005 is the first year of the current two (2) year process. This represents the actual value of your property as of 6/30/2004, based upon sales of comparable properties within your property's local real estate market, and as required by law. The residential assessment rate is projected to be 7.96% and all other property is generally assessed at 29%. To appeal your 2005 assessment, your mailed appeal must be postmarked no later than June 1, 2005. Faxes must be delivered by 5:00 PM, June 1st. If you choose to present oral or written objections to the Assessor in person, you may deliver it to the Assessor at the address below between May 1 and June 1, 2005. Responses to 2005 appeals will be mailed June 30th. To preserve your right to protest, you must mail or fax your objection, or appear in the Larimer County Assessor's Office between May 1 - June 1, 2005. After these dates, your right to appeal to the Assessor is waived. We recommend that all correspondence be mailed with the proof of mailing to preserve your appeal rights. If you need additional information, please contact the Larimer County Assessors Office at 970-498-7050 and we will gladly assist you in any way possible. This notice does not apply to business personal property.
Larimer County Assessor
200 W. Oak Street
Second Floor
PO Box 1190
Fort Collins, CO 80522-1190
---
Disclaimer: Stories and other content are submitted by independent sources and do not represent the opinions or views of Storm Mountain Net, nor it's employees... All stories are posted without bias to their content... While every attempt is made to be concise in our reporting, Storm Mountain Net is not responsible for any incorrect information...