__________________

Homeland Security
____________________
____________________
__________________


"The Storm Mountain Incident"
Pollution of our
National Forest Streams

(Requires Free PowerPoint Viewer available here)
__________________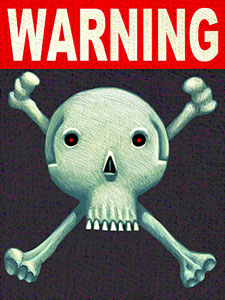 Contamination to Storm Mountain Properties
Click here for the facts!
__________________
[ Up ]
__________________



__________________
__________________
Tuesday, May 31st - Missing Horse Found Scared But Safe... A horse that was reported missing yesterday was found on Monday afternoon after a tip from an anonymous caller. The caller reported the horse being hit with rocks and beat with sticks by another resident. Names are not being released at this time. The horse, while frightened, was not harmed and is now at an undisclosed location, far from this area. Three horses were removed from contaminated property on Storm Mountain yesterday with two more to be moved shortly. This move is out of concern for the health and welfare of the animals, by the owners, veterinarians and horse rescue specialists after confirmed high amounts of arsenic, barium, and chromium were found to be present on the homeowner's property as a result of run-off from FDR 128 in the Roosevelt National Forest, in addition to threats made yesterday. An offer has also reportedly been made to provide the affected family with housing should the need arise.
---
Monday, May 30th - Homeowner Threatened With Murder Of Animals... In what is being perceived to be retaliation by the Cedar Park Road Improvement Corporation, a homeowner whose property was contaminated by run-off due to negligence on the part of the road maintenance corporation, was today threatened with their animals disappearing, and/or being killed, one by one. The threat was made by a man in a newer red pickup truck, believed to be a member of the corporation. The homeowner has been boarding the horses on a neighbors, Raymond Berg's, property. In the past week, Berg's fence has been repeatedly and mysteriously taken down, allowing the horses to escape. While out rounding the horses up this morning, the homeowner was stopped by the man in the red pickup who stated, "You will not find your white horse, and all of your animals will be disappearing one by one, and you'll never find them". A report of the threat is being filed with the Larimer County Sheriff's office, and a restraining order, reportedly being placed against the Cedar Park Road Maintenance Corporation, and it's members.
The homeowner stated this morning, "I would like it known publicly that should anything happen to myself, my family or my animals that the parties to look to as responsible are the board members of the Cedar Park/Cedar Springs Homeowners' Associations and the Cedar Park Road Maintenance Corporation. They are the only people with any reason to do us harm, which they intend to attempt as was made quite clear in their threat today. Make no mistake, I will take whatever measures are necessary to protect my family. Should anyone forcefully enter my home and threaten our safety, they will be killed with no questions asked." Under Colorado Law, the homeowner would be entirely within his rights to take whatever measures are necessary, including the use of deadly force, should an entry to the home and threat to the welfare of the family occur.
The homeowners are today moving their horses off the mountain to an involved rescue shelter, due to the chemicals now present and the recent threats made by, what are believed to be, association members. The shelter is donating the labor and trailer, as they also strongly fear for the animals well being. Strong evidence of damage and death, as a direct result of the chemicals used on FDR 128, are quickly mounting with several wildlife rescue and animal activist groups joining the cause. Legal action against the National Forest Service, and both the individuals, and corporations responsible, is now imminent. As of 11:30AM, the homeowner's white horse remains missing.
---
Sunday, May 29th - Photo Of The Week... One of our area's more common wild animals is the North American Elk. Elk are grazing animals and often prey for predators such as Mountain Lion and Coyote. North American Elk, or Wapiti, were once plentiful in the Rocky Mountain National Park area. As the Estes Valley was settled, elk were hunted extensively, and their habitat was reduced. As a result, the elk population declined and by 1890 few elk remained. In 1913 and 1914, before the establishment of the park, 49 elk from Yellowstone National Park were transplanted to this area. Around the same time, an all-out effort began to eliminate predators, including the gray wolf and the grizzly bear. The resulting decrease in predators probably hastened the recovery of Rocky's elk population. Currently, the elk population in the park fluctuates dramatically from summer to winter. Concentrations of 3,200 elk in summer may dwindle to 1,000 during winter as elk migrate to lower elevations and move to areas outside the park. Accelerating development along the park boundary threatens to diminish open space and traditional migration routes, thus decreasing winter forage and habitat. This week's photo was taken on May 27th and shows a Bull Elk with new velvet antler growth. Elk, like deer, shed their antlers each year and grow a new set in their place.
---
Saturday, May 28th - Area Festivals Throughout Memorial Day Weekend... Area residents and visitors will have a wide selection of activities to choose from this Memorial Day Weekend. Festivals, concerts, and barbeques are planned throughout the area.
The "River Forks Music Festival", at the intersection of Hwy 34 and CO 43 in Drake, will begin Saturday at 11am and continue through Monday evening. Several bands will be performing with plenty of good food and drink. Tickets for the festival are $5 on Saturday, $15 on Sunday (featuring the Mike Manshel Band), and $5 on Monday. # Day tickets are $25 and includes 3 free drinks. Barbeque each evening featuring Red Chili and cold draft beer. For more information call: 669-2370.
The "Peace Tree Benefit Concert" at the Mishawaka Amphitheatre will feature "Shanti-Shanti", "Wendy Woo", "Wall of Dogs", and "Blues is Blood". The concert is part of a benefit to support our Veterans and the hope of peace. There will also be a huge silent auction, with items donated by many area businesses. Gates will open at 1PM; show starts at 2PM. Tickets are $10 in advance and $15 the day of show. For complete information visit: "www.thepeacetree.org".
---
Thursday, May 26th - High Water Conditions in Larimer County Rivers... In light of recent rafting and tubing accidents on Colorado rivers this past week, Larimer County Emergency Services would like to remind citizens that the Poudre River is up 2 ½ to 3 feet since this time last week. Our recent warm weather has caused activity fluctuations in the level and intensity of river.
Sgt. Don Griffith would like to particularly advise those using inner tubes that the water level is up significantly over the last few years and that conditions now are more hazardous than tubers are used to experiencing. Griffith explained that Emergency Services is particularly concerned about tubers and those using inexpensive, single chamber rafts and asks these folks to consider precautions including personal flotation devices (life jackets) and helmets. Griffith also suggested scouting the area of the river planned for use before entering the water. And finally, Griffith stressed that folks should always go in groups.
The majority of the rivers in our area, including the Big Thompson and North Fork, are currently at a high levels. Residents are advised to use extreme caution in and near the rivers, particularly with children and pets. Swift currents can easily sweep away even the best of swimmers.
For more information on river precautions, please call Sgt. Don Griffith at 498-5300 or Emergency Services Technician Kevin Johnston at 498-5303.
---
Wednesday, May 25th - Major DUI Crackdowns For Memorial Day Weekend... Governor Owens announced this morning, major DUI enforcement crackdowns for the Memorial Day weekend. Starting May 27, Colorado launches DUI Checkpoint Colorado, a summer-long program of sobriety checkpoints and Memorial Day weekend DUI enforcement statewide. Also on May 27, the Colorado State Patrol launches Colorado Target Zero to prevent traffic deaths during the Memorial Day weekend. In all, four major safety operations, "Click-It or Ticket", "The Heat Is On", "Target Zero", and "DUI Checkpoint Colorado", will be run simultaneously. The effect will be heavy saturation of the highways statewide, by officers from many law enforcement agencies, many fixed and mobile DUI checkpoints, and strong enforcement of the "Seat Belt Law", particularly with children. The goal of this massive undertaking is to have zero fatalities on Colorado highways this Memorial Day weekend. The "Click-It or Ticket", "The Heat Is On", and "DUI Checkpoint Colorado" programs are scheduled to continue throughout the summer season. We at SMN, strongly support these efforts, and would urge everyone to be responsible and not drink and drive this weekend or ever. DO NOT BECOME A STATISTIC!!! STAY ALIVE, DON'T DRINK AND DRIVE!!!
---
Tuesday, May 24th - Mosquitoes That Can Carry West Nile Virus Found In Loveland... West Nile virus (WNV) season is rapidly approaching. Although last year (2004) turned out to be a very mild season with only 18 cases reported in the county compared to 546 cases in 2003, public health experts warn that the virus continues to be present in this region. An owl from Weld County tested positive for WNV in early April. Colorado Mosquito Control reports that adult, "Culex tarsalis", mosquitoes and larvae have been found in both Loveland and Fort Collins.
Typically, the numbers of mosquitoes increase greatly along with warmer temperatures. Mike Doyle, entomologist at Colorado Mosquito Control notes that "So far my employees have seen fewer Culex mosquitoes in the water than in 2003, but many more than last year. More hot weather will likely cause an early mosquito season."
Residents are advised to begin mosquito control activities around their homes and gardens now to eliminate or reduce breeding areas. "This is a great time to repair screens, clean gutters, trim shrubbery off the ground, remove garden debris, and do a thorough check for cans, old tires, flower pots and other containers where standing water might collect," said Dr. Adrienne LeBailly, MD, director of the Larimer County Department of Health and Environment.
A number of activities have begun by the Larimer County Department of Health and Environment, the cities of Loveland and Fort Collins and Colorado Mosquito Control
(CMC) to minimize West Nile infections this season. Mosquito traps will be set out in nearly 90 locations to monitor the numbers of mosquitoes.
Breeding areas in and around Fort Collins and Loveland where mosquito larvae have been found are being treated with larvicides to reduce the populations of mosquitoes before they reach adulthood. CMC will continue these activities throughout the season. Mike Doyle encourages residents to report any water that stands for more than five days to CMC so they can assess the need to larvicide these locations. Fort Collins residents should call the MosquitoLine at: 970-663-5697; Loveland residents should call: 970-962-2582.
The Health Department is monitoring birds for signs of West Nile virus infections. To report dead birds, please call: 970-498-6792. Not all birds are suitable for testing. The best strategy is to first call the bird report line, then an environmental health specialist will contact you with information on testing procedures or how to dispose of the bird.
Larimer County has hired a health educator who is available to provide educational programs on West Nile virus prevention to groups, clubs and organizations. Printed materials and posters are also available. To schedule a program call Indira at: 970-498-6752.
A number of web sites offer West Nile information visit:
www.fightthebitecolorado.com, www.healthinfosource.com, www.larimer.org/health.
The Colorado Department of Public Health and Environment also provides the Colorado Helpline, 1-877-462-2911, which is staffed by information specialists who will answer questions and provide information.
Dog Dies - Owner Vows Justice... The Black Lab that was suffering liver failure as a result of exposure to chemicals used on FDR 128 died last night at 2AM. The owners were by her side as she passed.
"While it is hard to accept, I know she is now at peace and running free. I am now devoting my entire life, energy and resources to the demise of those responsible and to putting an end to the use of Mag-chloride as dust control in Colorado," states the angry homeowner. "As I see it, three individuals on the association boards have been running shotgun over residents for far too long. They are personally responsible for the use of chemicals on FDR 128, in direct violation of the road maintenance contract with the National Forest Service. They are self appointed rulers who think they are the law. They will soon find out otherwise as I will leave no stone unturned in my mission... They do not represent homeowners in any way, shape or form in my opinion. 99% of homeowner's problems are a result of their actions. They only represent the interests of themselves and their private club. I will demand that a complete and thorough investigation into their finances and operation be done and the homeowners will know what has been going on courtesy of what I see as crooks. They will wish it was them who had died in their sleep when I am finished with them. And I will do it all legally. Do they pay fees for all of their properties? Or are they part of the good old boys who are exempt?" All will be investigated and all will be disclosed, and when the people see their crimes exposed, they will crawl away like the snakes that I believe them to be."
While these are quite obviously the words of a very hurt and angry person, complaints of abuse by the Association have been surfacing as of late.
---
Monday, May 23rd - Full "Flower Moon" Today... This month's Full Moon is often referred to as the "Flower Moon", because it shines down on the many flowers in bloom at this time of the year. It has also been called the Full Corn Planting Moon, or the Milk Moon. The Full Moon will occur at 2:18PM MDT, this afternoon.
---
News posts from previous weeks are located in our "News Archive" which can be found by clicking the button below:
---
Storm Mountain Net
Disclaimer: Stories and other content are submitted by independent sources and do not represent the opinions or views of Storm Mountain Net, nor it's employees... All stories are posted without bias to their content... While every attempt is made to be concise in our reporting, Storm Mountain Net is not responsible for any incorrect information...