__________________

Homeland Security
____________________
____________________
__________________


"The Storm Mountain Incident"
Pollution of our
National Forest Streams

(Requires Free PowerPoint Viewer available here)
__________________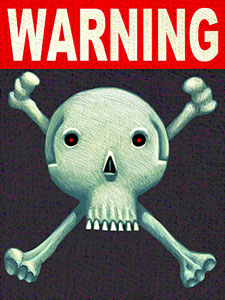 Contamination to Storm Mountain Properties
Click here for the facts!
__________________
[ Up ]
__________________



__________________
__________________

Listen to this article
Photo sent to SMN on Friday showing Red-Tailed Hawk covered in oily foam from run-off along FDR 128. It was reported that the bird was unable to fly.
Sunday, June 5th - Following The Foam, A Chemical's Journey Down The Big Thompson River... Heavy rains over the past few days have sent thousands of gallons of run-off from FDR 128 into the National Forest streams and Big Thompson River downstream. We therefore felt it appropriate to present a "Following the Foam" photo essay on the journey of this chemical foam from its point source of FDR 128, down the Big Thompson River and into the City of Loveland. All of the following photos were taken on Saturday, June 4th between 3pm and 4pm. Testing by a private homeowner in 2004 confirmed this run-off to contain high amounts of Arsenic (200PPM), Barium(96PPM), and Chromium IV(25.4PPM). The presence of toxic chemicals is due to careless attempts at dust control by the Cedar Springs Road Maintenance Corporation and the Cedar Springs Improvement Association. No safeguards were ever take to prevent this run-off from occurring. The photos below show the effects of the chemicals nearly a year from their last use. It should also be noted that little or no foaming of this type was seen above the point source of FDR 128.
Following The Foam, A Chemical's Journey Down The Big Thompson River
(Photos ©2005 Darrell E. Spangler - All Rights Reserved)
The "Point Source", runoff from FDR 128 running
into National Forest stream
Foam from chemical laden runoff building to
several feet in height
The waterfall along FDR 128 looking like a soap
factory discharge area.
Heavy amounts of foam hangs in plants along the
way to the Big Thompson River
Foam at culvert along FDR 128 a few hundred yards from the Big Thompson River
Stream of chemical foam flowing into lake at Idylwilde Dam 2 miles east of point source
Foam from FDR 128 coats the surface of the
Idylwilde Lake along Hwy 34
A "City of Loveland" worker was reported removing dead fish from this area on Friday afternoon
Foam continues at the dam before the Narrows of the Big Thompson Canyon
Over 4 miles from the point source of FDR 128, the foam is still heavy along the shores of the Big Thompson River
Foam in river under Namaqua Road on the
outskirts of the City of Loveland
Now over 10 miles from its point source, chemicals from FDR 128 run-off are still clearly visible
---
Saturday, June 4th - Winter Weather Advisory Until 4PM MDT... The National Weather Service in Denver has issued a "Winter Weather Advisory" in effect until 4PM MDT for Larimer and Boulder Counties, including the Storm Mountain, Drake and Glen Haven areas. SNOW WILL CONTINUE ABOVE 7500 FEET THROUGH THIS AFTERNOON WITH TOTAL ACCUMULATIONS OF 5 TO 10 INCHES. THE SNOW SHOULD DIMINISH BY LATE AFTERNOON.
---
Friday, June 3rd - Heavy Weather Continues Across Area... Today, as on Thursday afternoon, heavy thunderstorms have been prevalent across our area. These storms have been approaching severe levels with heavy rainfall and dangerous lightning being reported. Area rivers are currently rising and are already at high levels due to snowmelt. Flooding is being reported in low-lying areas in Northwest Larimer County along the Laramie River. As of 1:30PM MDT, there are no official watches in effect for our immediate area.
---
Thursday, June 2nd - Tornado Watch Until 8PM MDT... The National Weather Service in Denver has issued a "Tornado Watch" for the the majority of Northeast Colorado including the Storm Mountain, Drake and Glen Haven areas until 8PM MDT tonight. A Tornado Watch means that conditions are favorable for the development of tornadoes. Residents are advised to stay tuned to radio and television news for possible warnings should they be issued. The previous "Severe Thunderstorm Warning" has expired.
---
Wednesday, June 1st - Summer Ozone Season Begins... The summer ozone season is June 1 through September 1 and once again Larimer and Weld Counties will be included in ozone action alerts that are issued when elevated ozone levels are expected. The Cities of Fort Collins, Loveland, and Greeley are included in the alert area. The ozone action alerts will be issued by the Colorado Department of Public Health based on daily forecasts of conditions that produce higher ozone levels and are aimed at helping people avoid health risks. The message on any alert will be tailored to the expected ozone level so that groups at particular risk can be advised. Individuals can obtain a daily air quality advisory on-line at http://apcd.state.co.us/psi/advisory.phtml. The State also operates a toll-free telephone hotline to help keep Colorado residents informed about current and predicted air quality conditions. The number is 1-888-484-3247 (1-888-4-THE AIR). Alerts will also be published in the Coloradoan on the Weather page, and on Cable Channel 27.
There is good ozone and bad ozone. Good ozone is located in the upper atmosphere and blocks ultraviolet rays, protecting us from skin cancer, cataracts, and possibly immune system damage. Ozone pollution or bad ozone is a gas that is formed when volatile organic compounds (VOCs) (such as auto emissions) combine with nitrogen oxides (NOx) in the presence of sunlight. Ozone pollution causes breathing problems and respiratory infections.
Although ozone is more likely to cause breathing problems and respiratory infections in the elderly, the young, and those with pre-existing ailments, even healthy people who exercise or work outdoors can experience breathing problems when exposed to ozone pollution. During ozone alert days, people can lower their risk of developing symptoms by limiting prolonged outdoor exercise. The risk for developing symptoms depends on personal health factors and the concentration of ozone in the air. Larimer County Director Health and Environment Dr. Adrienne LeBailly, noted that physical activity such as jogging or hard outdoor work causes people to breathe more deeply, thereby increasing their exposure when ozone levels are high. If ozone levels are moderately elevated, unusually sensitive individuals may experience symptoms. Very high ozone levels can cause symptoms for healthy people engaged in even moderate exercise. The Denver metro area has experienced summertime ozone readings that exceed the federal standard for 8-hour average ozone levels. Northern Colorado rarely sees very high levels although moderate levels occur.
The sunny days of summer, hot temperatures, and VOCs such as auto emissions are the perfect mixture for creating ozone pollution. Citizens can help out by taking voluntary steps that reduce pollutants that lead to ozone pollution.
· Maintain your vehicle to help it run cleaner
· Stop at the click when refueling your car or truck to limit vapors
· Combine trips, take the bus, or postpone a trip during an alert if possible
· Refuel after dusk in the summer to avoid the period of intense sunlight
· Avoid using gas-powered yard equipment on high ozone days
Several pollution reduction measures have been recently adopted in Colorado's Ozone Action Plan, a cooperative plan to bring the entire region into full compliance with the standard by 2007. Local efforts to reduce ozone-forming pollutants include the City of Fort Collins Lawn Mower Rebate program (now concluded) and "Gas Cap Fairs", where the City will partner with select Climate Wise businesses to test employees' vehicle gas caps and replace them if faulty.
Larimer County To Appeal YMCA Tax Decision... The Board of Larimer County Commissioners on Tuesday, decided to file an appeal with the Colorado Board of Assessment Appeal concerning the recent ruling exempting the YMCA of the Rockies from paying property taxes on many of its buildings and requiring county entities to pay back over $743,000. The Colorado Division of Property Taxation ruled earlier this month that the 860-acre Estes Park Center, along with Camp Chief Ouray and Snow Mountain Ranch near Winter Park, meet criteria to be exempt from paying property taxes. Commissioner Kathay Rennels was not present, however Commissioners Karen Wagner and Glenn Gibson agreed on the decision to appeal. Commissioner Wagner felt it was important to file the appeal, not just for Larimer County government, but on behalf of the other affected entities such as the library and hospital districts in Estes Park.
If the exemption goes through, Larimer County will owe $262,898 of the $743,000 for YMCA taxes paid from 2002 through 2004. The Estes Park Hospital District owes $87,920, the library district will have to refund $35,687 and Estes Valley Recreation and Parks owes $11,714. The YMCA accounts for less than 0.4 percent of the county's tax revenue.
---
Disclaimer: Stories and other content are submitted by independent sources and do not represent the opinions or views of Storm Mountain Net, nor it's employees... All stories are posted without bias to their content... While every attempt is made to be concise in our reporting, Storm Mountain Net is not responsible for any incorrect information...