__________________

Homeland Security
____________________
____________________
__________________


"The Storm Mountain Incident"
Pollution of our
National Forest Streams

(Requires Free PowerPoint Viewer available here)
__________________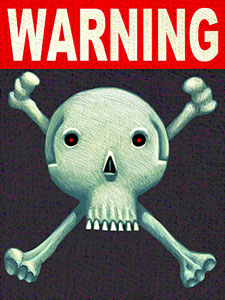 Contamination to Storm Mountain Properties
Click here for the facts!
__________________
[ Up ]
__________________



__________________
__________________
Sunday, June 19th - Photo Of The Week... Heavy rains in previous weeks gave way to a wondrous display of wildfowers last week throughout our area. Many are claiming this to be the best wildflower season in a over a decade. Hillsides and fields are currently ablaze with color making for great photos like the one featured today. This photo appropriately titled, "After The Rain", was taken June 13th along Dry Gulch Road, north of Estes Park. It shows a field of, "Wallflowers", with the spectacular Long's Peak in the background. Wallflowers are so-named as they are usually seen as a solitary plant. The number of plants blooming currently is due to the large amount of moisture followed by a string of sunny warm days. There are several species of wildflowers currently blooming with reports of flowers not often seen, blooming as well. This is a great time of year to take a drive, or better yet a walk, through the many fields and roads in our area. And remember to bring along a camera!
---

Listen to this article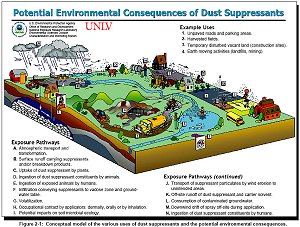 Diagram showing potential environmental consequences from chemical dust suppressants. (Click image for full size view)
Friday, June 17th - Potential Environmental Consequences Of Dust Suppressants... The following information from an expert report prepared for the EPA in 2002 by the University of Nevada, Las Vegas may possibly be the most concise, pertinent information currently available regarding the use of chemical dust suppressants on FDR 128 and other roads throughout Larimer County. The following paragraphs are from the introduction to the report:
"Avoiding Another Times Beach"
In the past decade, there has been an increased use of chemical dust suppressants such as water, salts, asphalt emulsion, vegetable oils, molasses, synthetic polymers, mulches, and lignin products. Dust suppressants abate dust by changing the physical properties of the soil surface and are typically used on construction sites, unpaved roads, and mining activities. The use of chemical dust suppressants has increased dramatically due to rapid population growth and increased emphasis on the need to control particulates in the interest of air quality. In the United States, there are over 2,500,000 km of public unpaved roads, of which 25% (625,000 km) are treated with chemical dust suppressants. A critical problem in the arid southwestern U.S. is dust suppression on land disturbed for residential construction.
Recognizing that it is important to achieve and maintain clean air, the concern that prompted this report is that application of dust suppressants to improve air quality could potentially have other adverse environmental impacts. Times Beach, Missouri is a classic example where the resolution of dust emissions from unpaved roads leads to the creation of a Superfund site. In 1972 and 1973 waste oil contaminated dioxin was sprayed on unpaved roads and vacant lots for dust control in Times Beach. After realizing the adverse situation that had occurred, the costs to relocate the residents and clean up the site was over $80 million. Much more stringent regulations are now in place to avoid another Times Beach; however, there is still concern over the use of dust suppressants since most products used as dust suppressants are by-products and their exact composition is unknown. The purpose of this report is to summarize the current state of knowledge on the potential environmental impacts of chemical dust suppressants. Furthermore, the report summarizes the views of an Expert Panel that was convened on May 30-31, 2002 at the University of Nevada, Las Vegas to probe into the potential environmental issues associated with the use of dust suppressants.
There are several major categories of dust suppressants: hygroscopic salts, organic petroleum-based, organic nonpetroleum-based, synthetic polymer emulsions, electrochemical products, mulches of wood fiber or recycled newspaper, and blends that combine components from the major categories. Dust suppressants are frequently formulated with waste products recycled from other industries.
Most of the research on dust suppressants has been conducted by industry and has focused on the effectiveness (or performance) of dust suppressants, that is, the ability to abate dust. Little information is available on the potential environmental and health impacts of these compounds. Potential environmental impacts include: surface and groundwater quality deterioration; soil contamination; toxicity to soil and water biota; toxicity to humans during and after application; air pollution from volatile dust suppressant components; accumulation in soils; changes in hydrologic characteristics of the soils; and impacts on native flora and fauna populations.
The major known effects of salts in the environment relate to their capacity to move easily with water through soils. Water quality impacts include possible elevated chloride concentrations in streams downstream of application areas and shallow groundwater contamination. In the area near the application of salts, there could be negative impacts to plant growth. For organic non-petroleum based dust suppressants, lignin sulfonate has been shown to reduce biological activity and retard fish growth. Organic petroleum-based dust suppressants have been shown to be toxic to avian eggs; however, the leachate concentrations in other studies were low in comparison to health-based standards. There is also concern with the use of recycled oil waste that may have heavy metals and PCBs.
The potential impact of dust suppressants on soils and plants includes changes in surface permeability, uptake by plant roots that could affect growth, and biotransformation of the dust suppressants in the soil into benign or toxic compounds depending on the environmental conditions and associated microbiota. Vegetation adjacent to the area where dust suppressants are applied could be impacted by airborne dust suppressants. This includes browning of trees along roadways and stunted growth. These effects will vary since different plants have different tolerances. The potential impact of dust suppressants to water quality and aquatic ecosystems include contaminated ground and surface waters, and changes in fish health. Dust suppressants that are water-soluble can be transported into surface waters and materials that are water-soluble but do not bind tenaciously to soil can enter the groundwater. Fish may be affected by direct ingestion of toxic constituents and also by changes in water quality (e.g., BOD, DO, salinity).
The complete 2002 expert report on the potential environmental consequences of dust suppressants can be found via the link provided below:
"Avoiding Another Times Beach"
---
Thursday, June 16th - Quit Smoking On Father's Day... Colorado has the 4th lowest male smoking rate in the country, with only 19.6 percent of men smoking. Nationally, 24.1 percent of men smoke which costs the United States $54.3 billion dollars a year in health care costs to treat these smokers. In comparison, there are 322,000 men in Colorado who smoke, which costs Colorado over $730 million dollars a year in health care costs to treat them. Despite this encouraging ranking, Dr. Adrienne LeBailly, MD, director of the Larimer County Department of Health and Environment, said, "We still need to help smokers to quit. While it can be difficult to quit, there are a number of great reasons to stop smoking, especially around Father's Day - Quit for your own health and for your family." Smoking not only affects men's health directly, but can also hurt children and family members, said LeBailly. "There are dads in Colorado smoking around their children. This exposure to secondhand smoke increases their children's chances of developing asthma, ear infections, allergies and even pneumonia."
In addition to promoting resources for quitting smoking, the Loveland Alliance on Smoking and Health (LASH) is working to promote a smokefree workplace law in Loveland. According to the group's chairman, David Hughes, "Smokefree workplace laws not only protect workers and patrons from the harms of secondhand smoke but they also promote quitting among adults and prevent kids from starting. We want Loveland to be a community that supports a non-smoking norm, not one of 'smoking or non?'".
Dr. LeBailly suggested, "Use Father's Day as an incentive to try to quit smoking. It's one of the best gifts you can give to your family, and you can lean on their support through the quitting process." For those who want to quit smoking, the Colorado Quitline, at 1-800-639-QUIT (7848) and the Colorado QuitNet, at www.co.quitnet.com offer smoking cessation services free of charge to everyone in the state. These services have helped 37,000 Coloradoans through the quitting process.
The Colorado Quitline, operated by National Jewish Hospital under contract to the department's State Tobacco Education and Prevention Partnership program, is a free telephone counseling service, available in English and Spanish throughout the state. The Colorado Quitline connects people who want to quit tobacco with trained counselors who can support them through the quitting process. The Quitline is available Monday through Thursday between the hours of 7 a.m. and 9 p.m.; on Friday between 7 a.m. and 7 p.m.; and on Saturday and Sunday between 8 a.m. and 4:30 p.m. The Colorado QuitNet is a Web site that offers peer support through an on-line community of individuals who are trying to quit, as well as expert advice on quitting strategies and medications that may be helpful. The QuitNet is available 24 hours per day, seven days a week.
---
Wednesday, June 15th - High Speed Pursuit Through Big Thompson Canyon... At 12:35 A.M. on June 15, 2005, a Larimer County Sheriff's deputy initiated a traffic stop for speeding at approximately 80 miles per hour in the area of West 57th Street and North CR 19 in Loveland. The suspect vehicle fled from deputies through Loveland and the Big Thompson Canyon, at times reaching speeds of 90 miles per hour. Deputies set road spikes near mile marker 67 in the canyon which flattened the right front tire of the suspect vehicle but did not stop the vehicle. At this time, Colorado State Patrol joined in the pursuit. Estes Park Police Department set road spikes two miles outside of Estes Park at Highway 34 and Mall Road, which flattened the left front tire of the suspect vehicle.
The suspect vehicle ran onto the shoulder and the driver bolted from the vehicle at 1:07 A.M. A female passenger was held on scene but later released. A perimeter was set at which time Larimer County Sheriff's K-9 and handler arrived. It is believed that the suspect was attempting to hide under water in a creek near Mt. Olympus Dam when K-9 Rico pulled the suspect from the creek. Dennis Ray Cochell, 11-04-61, of Thornton, was taken into custody at 1:13 A.M. and transported to the Estes Park Medical Center, where he was treated and released to deputies. No deputies were injured in the incident.
Cochell was transported to Larimer County Detention Center and booked on the following charges:
Unlawful Possession of Controlled 2 Substance, class 4 felony;
Vehicular Eluding, class 5 felony;
False Imprisonment, misdemeanor 2;
Reckless Endangerment, misdemeanor 3;
Driving Under Revocation; and
Speeding
Cochell is being held without bond.
UPDATE: Larimer County Detention Center has just received a report of Colorado Bureau of Investigation that the fingerprints submitted under the name of Dennis Ray Cochell matched those of William Thomas Kemp, Jr.,102461. Kemp is wanted on a warrant out of the Department of Corrections for escape. Kemp has numerous aliases and false birthdates. Kemp also has an extensive criminal history dating back to 1990. Kemp may face new charges of Criminal Impersonation and False Reporting.
---
Disclaimer: Stories and other content are submitted by independent sources and do not represent the opinions or views of Storm Mountain Net, nor it's employees... All stories are posted without bias to their content... While every attempt is made to be concise in our reporting, Storm Mountain Net is not responsible for any incorrect information...