__________________

Homeland Security
____________________
____________________
__________________


"The Storm Mountain Incident"
Pollution of our
National Forest Streams

(Requires Free PowerPoint Viewer available here)
__________________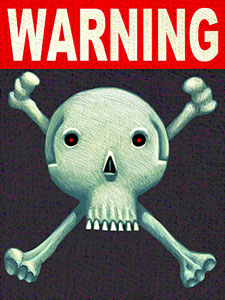 Contamination to Storm Mountain Properties
Click here for the facts!
__________________
__________________



__________________
__________________
Monday, October 4th - Estes Park School Bus Stop To Move Thursday... It was reported today that the Estes Park Schools will be moving the bus stop for students from it's current location at the intersection of CO 43 and FDR 128, to the northwest corner of Hwy 34 and CO 43, effective this Thursday... This move is reportedly in response to the increased number of children attending the schools and hazardous situation leading to a close call with students and a vehicle this morning... The new site is considered to be safer and will provide more parking for parents, hopefully eliminating the increasing crowding and confusion during drop-off and pick up times at the current stop...
---
Sunday, October 3rd - Venus Shines In Predawn Skies... Step outside the next few mornings just before sunrise and you can see Venus shining brightly close to the star, "Regulus"... The two make a beautiful pair in the eastern predawn sky... The photo below was taken this morning at 4:35am and is being featured today at, "Spaceweather.com"...
---
Friday, October 1st - Voter Registration Deadline Monday... The deadline for voters to register for the General Elections on November 2nd is Monday, October 4th... All Americans are urged to register and to vote as it is their duty to our country... Complete information on registration and voting procedures can be found below...
---
Disclaimer: Stories and other content are submitted by independent sources and do not represent the opinions or views of Storm Mountain Net, nor it's employees... All stories are posted without bias to their content... While every attempt is made to be concise in our reporting, Storm Mountain Net is not responsible for any incorrect information...