Friday, October 22nd - HIGH WIND WARNING ISSUED... The National Weather Service in Denver has issues a "High Wind Warning" for the front range foothills including the Drake/Storm Mountain area until 6AM MDT Saturday... Gusty west winds will continue to increase this afternoon and continue throughout the night along the front range... Sustained winds of 25-40 MPH and gusts up to 85 MPH can be expected... THIS IS A WARNING AND NOT A WATCH!!! Complete information on this warning can be found below...
Voter Registrations Up In County... Results released today from a Larimer County Civic Survey show voter registration is up substantially this year... In the period from 1994 to 2004 results show that percentage of Democrats remained stable, with the percentage of Republicans dropping 36%, and the percentage of Unaffiliated rising nearly 50%... This exceptionally high increase of Unaffiliated voters may be partially a result of the negative campaigning by both major parties and a growing desire for a more issue based election... Complete results of this and other County Surveys can be found via the link below the chart...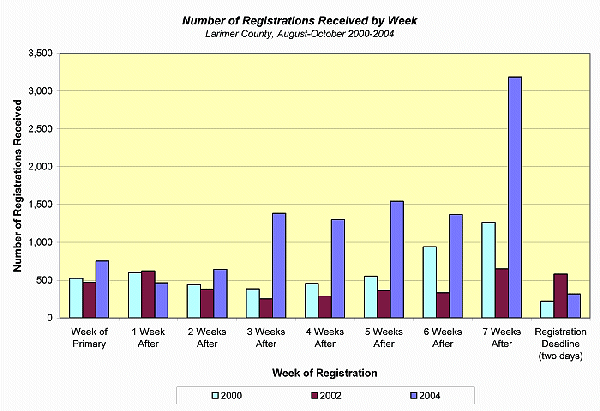 Flu Shot Clinics Scheduled For At Risk Adults... Influenza (flu) vaccination clinic schedules for high risk adults were announced yesterday... The Rehabilitation and Visiting Nurse Association (RVNA) has planned two public clinics for high risk adults... In order to qualify to receive a flu shot, adults must be in one of the following groups:
Adults aged 65 or older

People over age 18 with a chronic health condition such as diseases of the heart, lung, kidneys; conditions like diabetes, cancer, HIV/AIDS or other serious conditions requiring regular medical care or hospitalizations.
Other adults for whom flu vaccinations are recommended such as caregivers or parents of infants under 6 months of age, would be appropriate candidates for the nasal spray form of flu vaccine (FluMist)... The RVNA may be able to offer the FluMist, if the manufacturer is able to fill their order... The company has increased its production to 2 million doses of the product for the 2004 season... Complete information can be found below...
---
Thursday, October 21st - Homeowners' Association Lashes Out At Resident... In an email sent today to Cedar Park homeowners titled, "Kinds of Things we need to refute", the Homeowners' Association is encouraging local residents to dispute the claims of a resident whose property was contaminated with chemicals... "Can you see why we need to present our side of the story? If the Material Safety Data Sheet on the product we are using says it contains NO HAZARDOUS COMPONENTS, why all this ruckus? To my knowledge, the road associations have NEVER deliberately circumvented notifying the authorities of our intent to do road maintenance... Please ask people to send their side of the story to the other kinds of contacts that Mr. Wubben and Mr. Spangler sent", was a partial section of the emails sent today to homeowners in the Cedar Park area... Mr. Spangler, the affected resident responded with the following, "I would like to see how they will refute the hundreds of photos, and hours of video, and the testing by a highly reputable company... They are obviously incapable of understanding the chemical aspects of their actions... I have retained a top-notch toxic tort attorney and I was going to just let this die, but if this is how they wish to deal with the issue, then let's play ball... They will be receiving a "Notice of Intent" shortly... I also wonder why I didn't receive this email directly as I am a homeowner in good standing, I got it from a neighbor... It's sad they are going behind my back and taking this course of action... Guilty cowards running scared in my opinion"... Should the "Notice of Intent" be served by Mr. Spangler and/or his attorneys, this would reportedly be the second area resident to serve notice of legal action against the Cedar Park Road Maintenance Corporation in this matter... It should also be noted that studies on the use of this product recommend guidelines which were not followed in previous applications... The MSDS for the product does indicate that no hazardous materials are present but does not address it's use on recycled asphalt which results in the leeching of heavy metals in the run-off... Below is a link to the test results from Stuart Environmental Consultants, which Mr. Spangler today has made available... The results positively confirm Mr. Spangler's claims of hazardous chemicals (Arsenic, Barium, and Chromium) being present in the run-off from the road passing through and contaminating his property...
---
Wednesday, October 20th - Precautions Taken In Chemical Application... Today workers applied chemicals to FDR 128... Safeguards and precautions were taken this time to prevent run-off into streams and private property... This may be due to the fact that this application was done under the close scrutiny of the National Forest Service, CDOT, and other agencies.. Borders and trenches were in place to minimize run-off and the application was kept from the edges as much as possible... As of this posting, no complaints of any run-off into streams or contamination to private land has been reported...
Orionid Meteor Shower Peaks Thursday Morning... Weather permitting, residents who are up before sunrise tomorrow may be treated to pieces of Halley's Comet entering the atmosphere in the southeastern skies as meteors... These meteors are part of the Orionid meteor shower which is predicted to peak in the pre-dawn hours of October 21st... Best viewing is expected between 3am and 6am MST...
Tuesday, October 19th - Chemicals To Be Applied To FDR 128 Tomorrow... It has been reported that the Cedar Park Road Maintenance Corporation is planning to once again apply chemicals on FDR 128 on Wednesday, October 21st... These are reported to be the same chemicals which which were confirmed to cause leaching of Arsenic and Barium into the National Forest streams and onto private property... Workers are currently working in the dark in preparation allegedly for tomorrow's chemical application... Details and photos to follow...
Frisbie The Right Man For 49... After reviewing the pertinent facts, and listening to the candidates views and opinions, it is our opinion that Doug Frisbie is the right choice for House District 49... The incumbent, Kevin Lundberg, has drifted away from what the majority of voters see as important... Frisbie in contrast, appears to be extremely interested in voter's views and feelings on local issues, and acts as a true moderate in his approach to government... As we feel we are in need of change in HD49, we at SMN believe Frisbie will provide that and more for our District... Both Frisbie and Lundberg will be participating in a radio debate tomorrow, Oct 20th, on KRFC 88.9FM at 7pm... To listen online click below...
New Vote Centers Discourage Rural Voters... The recent change in Larimer County from many local voting locations to five centralized voting centers is reported to be discouraging rural voters who have to now travel up to 20 miles to cast their vote... "It used to be simple to run down and vote, now it's in another town miles away and I'm on a tight schedule", states one Drake resident adding, "I believe this is specifically meant to discourage people from voting"... Residents of the Drake/Storm Mountain area who formerly voted at the Community Center in Drake, now must travel to either Loveland or Estes Park to cast their votes... While this change may make things easier for the ones counting the votes, we agree that it is an inconvenience for many residents of rural Larimer County...
---
Saturday, October 16th - It's Pumpkin Time!!! With Halloween only two weeks away, many area residents will be heading out to the patches to find that perfect pumpkin... Below is a list of Larimer County Pumpkin Farms and Festivals...
Denver Rescue Mission Harvest Farm


4240 ECR 66, Wellington, 80549,
(970) 568-9803
Web site: www.denverrescuemission.org
Sept. 4 - Oct. 31, Fridays, 4 p.m. - 10 p.m.
Saturdays, 10 a.m. - 10 p.m., Sundays,
1 p.m. - 8 p.m.
Pumpkin patch, gourds, corn stalks, decorative corn, corn maze, hayrides, petting zoo, corn cannon, corn snake tunnel, mini-maze.
All proceeds benefit The Denver Rescue Mission

Pumpkin Festival


2331 Waterdale Dr., Loveland, 80538,
(970) 593-9570
Web site: www.ellisrancheventcenter.com
Oct. 2, 3, 9, 10, 16, 17, 23, 24, 30, 31
11 a.m. - 5 p.m.
Farm Animals, Marshmallow Roasting, Bobbin' for Apples,
Giant Hay Maze, Candy in the Haystack, Horseshoe Pits, Cowboy Coffee, Hot Apple Juice, Five Bon-fires, Basketball Court, Wash Your Pumpkin, Giant Sand Pile, Wagon Ride Shuttle to Pumpkin Patch (pulled by an antique tractor), Children's Play Area, Tire Swings, Tricycle Track
Cost: $7.00 Adults & $5.00 Children (3yrs - 12yrs.)
School groups please call for availability during the week.

Lucky Bucky's


5428 S. County Rd. 3F, Fort Collins, 80528
(970) 221-5212
Oct. 1 - Oct 31, Monday - Friday by appointment, Saturdays, 9 a.m. - 6 p.m., Sundays, 12 p.m. - 6 p.m.
Pumpkins, gourds, winter squash, Indian corn, corn stalks, straw bales.

Osborn Farm


1933 S.E. 14th St., Loveland, 80537, (970) 669-4407
Oct 2, 9 a.m. - 5 p.m.,
Oct.3, 11 a.m. - 4 p.m.
Hayrides, music & food.
Oct. 4 - Oct. 31, 10 a.m. - 6 p.m., (weather and supply permitting). Pumpkins in the field, gourds, Indian corn, corn stalks, straw bales.
A complete list of pumpkins festivals throughout Colorado can be found below...
Bear Lake Road Re-opens... Visitors to Rocky Mountain National Park can once again drive up scenic Bear Lake Road... The road which had been closed this year for construction, was opened earlier this week... During the construction period visitors were required to use a shuttle bus to access this popular area of the park... The $8,000,000 improvement project included re-engineering of curves, widening of the road from 18' to 22', and installation of new facilities such as restrooms...
Children's Flu Clinics To Begin Next Week... The Larimer County Department of Health and Environment has scheduled high-risk child influenza (flu) clinics to begin next week at its offices in Fort Collins, Loveland and Estes Park... This year, the Larimer County Department of Health and Environment will be giving flu shots only to infants 6 to 23 months of age and other high-risk children... Only children who are at risk of serious complications from influenza can be vaccinated at Health Department clinics. Additional children's flu shot clinics will be scheduled as vaccine becomes available... Complete information can be found below...