Tuesday, December 14th - Geminids Display Best In Years... Last night's peak of the, "2004 Geminid Meteor Shower", put on quite a show for late night watchers... Confirmed rates of 50- 100 meteors per hour were reported... Clouds moved out after midnight allowing for good viewing of the event in our area... While the peak is over, watchers can still expect several nice Geminid meteors per hour tonight also... To see photos of Geminids from around the world go to the, "Geminid Meteor Gallery" at Spaceweather.com...
Photo taken on Storm Mountain at 11:30PM MST on Monday, showing Geminid Meteor passing by Comet Machholz in the southern sky.
More People Now Eligible For Flu Shots... The Larimer County Department of Health and Environment (LCDHE), has announced that influenza (flu) vaccine will be made available to additional groups of people who have not been included in the high priority groups for flu vaccine so far this year... Beginning on Wednesday, December 15th, the Health Department will offer the flu shots to all persons over age 50... Previously, only people in the age group from 50 – 64 with medical conditions that put them at risk for serious complications were eligible for the flu shots due to the vaccine shortage... The decision to add this age group was made based on CDC recommendations and a determination by the Colorado Dept. of Public Health and Environment on December 13th that high-risk patients had had adequate opportunities to be vaccinated, and that vaccine might go to waste if the target group was not expanded... Complete information is available by clicking below...
---
Monday, December 13th - Sheriff & Community Ask For Help In Sign Vandalism... Larimer County Sheriffs and community residents are asking anyone with information about the vandalizing of a Christmas sign, located at the "T" on FDR 128 to please contact Deputy Roger Bartram at bartrara@co.larimer.co.us or 498-5503 or 498-5187... This hand-painted sign was informational for the entire community... It was first vandalized in the early part of the week of November 29 and again on the night of December 3rd...
One Week Left To Enter Lights Contest... Area residents wishing to enter the "2004 Light Up The Mountain" Christmas lights contest have one week left to get their entries in... The deadline is midnight on Monday December 20th... The winner will receive a gift certificate for "Dinner for Two" at the historic, "River Forks Inn", and a framed and matted limited-edition print of the "Northern Lights over Storm Mountain", signed by the photographer... To enter, simply send a photo of your display to: contest@stormmountain.net or call 622-9796 to have us take a photo for you... Please include your name, phone number, and address of your display with your entry... Winner will be announced on Christmas Eve... Don't Delay - Enter Today!!!
Geminid Meteor Shower Peaks Tonight... the annual "Geminid Meteor Shower" is predicted to peak tonight just after sunset... The shower has been in progress for a couple of days with reports from Saturday night estimated at 50+ meteors per hour visible over Storm Mountain... During the peak 1-2 meteors per minute may be seen in our area... "Comet Machholz" is now visible to the naked eye and is quite impressive in binoculars and small telescopes... Look near the "Feet of Orion" in the southern sky after 9pm... "This comet was immediately visible to the naked eye", states Jimmy Westlake, who took this photo (a 5 minute exposure) of Comet Machholz on Saturday night...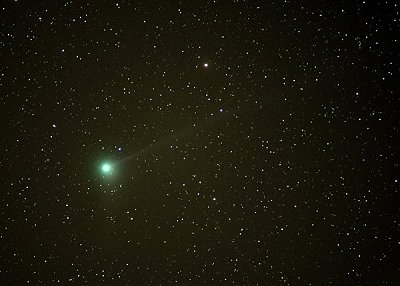 Renowned astro-photographer, Jimmy Westlake, took this spectacular photo of Comet Machholz on December 11th in the Colorado mountains.
---
Saturday, December 11th - Great Nights For Sky-watching... Weather permitting, tonight, and the next two, will be great nights for sky-watching... The 2004 "Geminid Meteor Shower" is currently in progress... Watchers can expect to see one or more bright meteors every 15 minutes tonight... Best times to look are just after sunset and just after midnight... The Geminids peak on Monday with an predicted rate of 60+ per hour... Comet Machholz is brightening daily and is now starting to develop a faint tail... This comet will continue to brighten for the next few weeks, possibly putting on an amazing display by mid January... Machholz can currently be found near the feet of Orion in the southern sky after 9pm MST... In addition, the Earth is currently in a solar stream flowing from a coronal hole on the surface of the sun setting the stage for possible Aurora displays tonight... While a major display this far south is unlikely, there is a 15% chance of a mild display reaching our area...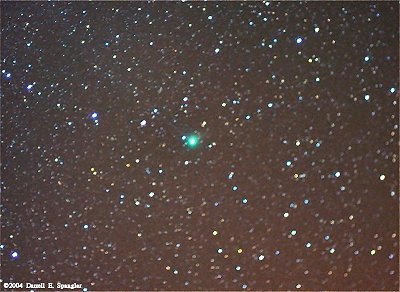 Photo of Comet Machholz taken on Storm Mountain, just before midnight on Thursday evening. A faint tail can be seen heading toward 10 o'clock.
---
Thursday, December 9th - 7AM Weather Update... As of 7am this morning neither the high winds nor the winter storm have made it to our area... The "High Wind Warning" remains in effect for our area until 6pm this evening with high winds still expected to develop across the region... Snowfall on Storm Mountain last night was just a trace with the wind currently being calm to light... Updates will be posted throughout the day should conditions change...
---
Wednesday, December 8th - High Wind Warning Issued... The National Weather Service in Denver has issued a "High Wind Warning" for the northern front range including Estes Park, Glen Haven, Drake, and the Storm Mountain area effective from 6pm MST to 6pm MST Thursday... This warning has been lifted for our area...
Winter Storm Watch Issued... At 4:30am, the National Weather Service in Denver issued a "Winter Storm Watch" for the northern mountains and foothills, including the Storm Mountain area, effective from late tonight through Thursday afternoon... THIS IS A WATCH AND NOT A WARNING! A strong weather system is expected to move eastward across northern Colorado tonight and tomorrow bringing substantial snowfall to the region... 6 to 10 inches of accumulation is possible in some areas... High winds combined with heavy snowfall may create blizzard-like conditions in certain areas... Considerable blowing and drifting may occur... Residents in and near the watch area are advised to take appropriate precautions if traveling during this period... Update: This watch has been lifted in our immediate area but remains in effect for the northern mountains including Rocky Mountain National Park...
High Wind Watch Continues Thru Thursday Afternoon... The National Weather Service in Denver is continuing a "High Wind Watch" for the northern mountains, northeast foothills and urban corridor west of I-25 from Denver north to the Wyoming border, including Estes Park, Glen Haven, Drake, and the Storm Mountain Area, effective through Thursday afternoon... THIS IS A WATCH AND NOT A WARNING! STRONG WINDS ARE EXPECTED TO DEVELOP IN THE HIGH COUNTRY LATE THIS AFTERNOON AND CONTINUE OVERNIGHT... A HIGH WIND WATCH REMAINS IN EFFECT FOR TONIGHT AND THURSDAY FOR THE EAST SLOPES OF THE FRONT RANGE FOOTHILLS AND THE ADJACENT PLAINS WEST OF I-25... WEST WINDS OF 25 TO 40 MPH WILL BE POSSIBLE ABOVE TIMBERLINE AND ON THE EAST SLOPES OF THE FOOTHILLS AFTER 4 PM... AS A STORM SYSTEM MOVES OVER WESTERN COLORADO, WIND WILL CONTINUE INCREASING WITH GUSTS TO 75 MPH POSSIBLE AFTER MIDNIGHT... SNOW SHOWERS WILL BECOME MORE WIDESPREAD IN THE MOUNTAINS LATE TONIGHT WITH ACCUMULATIONS OF A COUPLE INCHES POSSIBLE BY DAYBREAK THURSDAY... A WINTER STORM WATCH REMAINS IN EFFECT FOR LATE TONIGHT AND THURSDAY IN THE MOUNTAINS.... Residents in and near the watch area are advised to secure loose trash cans, deck furniture, and/or other outdoor items this afternoon, and to stay alert for likely upgrading to a warning...
---
News posts from previous weeks are located in our "News Archive" which can be found by clicking the button below:
---
Storm Mountain Net