Storm Mountain News
Local News
Saturday, March 18th - Winter Storm Watch Sunday Afternoon...
The National Weather Service in Denver has issued a Winter Storm Watch for the front range foothills, including the Drake, Glen Haven and Storm Mountain area, beginning on Sunday afternoon.
A POTENT WINTER STORM IS GATHERING STRENGTH OVER THE DESERT SOUTHWEST TODAY AND WILL MOVE ACROSS COLORADO SUNDAY AND SUNDAY NIGHT. THE WINTER STORM WILL CONTAIN ABUNDANT MOISTURE AND COOLER TEMPERATURES WHICH WILL RESULT IN SIGNIFICANT SNOWFALL ON THE NORTHEAST COLORADO PLAINS SUNDAY NIGHT AND MONDAY MORNING.
SNOW SHOWERS ARE EXPECTED TO DEVELOP SUNDAY AFTERNOON AND THEN CONTINUE SUNDAY NIGHT. SNOW ACCUMULATIONS OF 4 TO 8 INCHES ARE POSSIBLE BY MONDAY MORNING.
REMEMBER, A WINTER STORM WATCH MEANS THERE IS A POTENTIAL FOR A HAZARDOUS WINTER WEATHER EVENT IN AND CLOSE TO THE WATCH AREA. SIGNIFICANT SNOW ACCUMULATIONS MAY OCCUR THAT COULD IMPACT TRAVEL. STAY TUNED TO THE NATIONAL WEATHER SERVICE OR YOUR LOCAL NEWS MEDIA FOR THE LATEST UPDATES AND POSSIBLE WARNING CONCERNING THIS POTENTIAL WINTER STORM.
Area residents are advised to be prepared for difficult driving conditions late Sunday night and early Monday morning. Big Thompson Schools will be closed for Spring Break this week, saving many area resident's a slippery drive down FDR 128 to the bus on Monday.
The latest official information direct from the National Weather Service can be found via the link provided below.
Local Area Mineral Collector's Paradise...
One of the lesser known facts about the Storm Mountain area is the number of superb mineral specimens to be found throughout, making this a mineral collector's paradise.
One does not have to venture far from the road to find these natural treasures. Some of the finest specimens have come literally from the shoulder of the road. For the more adventurous, a hike up one of the many trails or old mining roads often leads past prospect holes and mines from days gone by. Beautiful pieces like the rare "Purpurite" pictured above can be found in tailing piles from these old digs.
Other area minerals sought by collectors include Garnet, Tourmaline, Beryl, Magnatite and Rose Quartz. All of these minerals are very common throughout or area. Garnet crystals the size of tennis balls have been found along the roadsides of CO 43, east of Glen Haven, and Magnatite crystals found in the Pole Hill area south of Estes Park are some of the largest found in the world.
When collecting minerals in this or any area a few basic rules should be obeyed:
Always respect property rights and no trespassing signs.
Always ask permission before collecting on private land.
If permission is granted, always leave gates as you find them.
Never leave trash or debris behind on public or private land.
---
Friday, March 17th - Heat Is On Begins Tonight...
Law enforcement agencies across Colorado will be joining forces in kicking off the St. Patrick's Day "Heat Is On" campaign beginning at 6PM this evening and continuing until 3AM on Monday.
The "Heat Is On" is a joint effort of several law enforcement agencies statewide to remove drunk drivers from Colorado roadways. Sixteen law enforcement agencies are planning saturation patrols with another thirty-five agencies planning increased patrols throughout the weekend. Several DUI checkpoints, both roving and fixed, will also be set up.
Last year 521 drivers were arrested on suspicion of drinking and driving during the St. Patrick's Day campaign, with only one person dying in an alcohol related accident on Colorado roads. The goal is a zero fatality weekend.
A major concern of law enforcement is that this year St. Patrick's Day falls on a Friday, and during the March Madness college basketball tournaments. It is feared that this combination could lead to an excessive amount of drinking, and drunk or impaired drivers on the roads.
As many people do celebrate St. Patrick's Day with alcoholic beverages, it is highly recommended that plans be made in advance to avoid drinking and driving situations. Motel rooms, taxis and designated drivers are all suggested ways to stay safe and out of jail this weekend.
DON'T BECOME A STATISTIC!
---
Thursday, March 16th - Large Winter Storm Approaching Area...
A large Pacific storm system is moving steadily towards northern Colorado, with some forecasters anticipating our largest snowfall of the season.
This storm system is expected to arrive Sunday evening or early Monday morning, with current models showing the brunt of the storm hitting the northern foothills, including the Drake, Glen Haven and Storm Mountain area.
The current weather statement on this storm reads as follows:
IT APPEARS THAT THE HIGHEST THREAT OF ACCUMULATING SNOWFALL WILL BE FROM SUNDAY NIGHT INTO MONDAY OF NEXT WEEK. IT IS TOO EARLY TO PREDICT THE EXACT TRACK AND INTENSITY OF THIS STORM. HOWEVER, THE STORM DOES HAVE POTENTIAL TO PRODUCE HEAVY SNOWFALL, ESPECIALLY IN THE FOOTHILLS AND OVER PORTIONS OF THE NORTHEAST COLORADO PLAINS. RESIDENTS OF NORTHEAST AND NORTH CENTRAL COLORADO SHOULD MONITOR THE NATIONAL WEATHER SERVICE OR LOCAL NEWS MEDIA FOR THE LATEST UPDATES CONCERNING THIS STORM AS IT DEVELOPS.
Area residents are advised to be prepared for heavy snowfall and difficult to impossible driving conditions should they develop. It is recommended that adequate food, water and medical supplies be stocked prior to the storm's anticipated arrival on late Sunday evening.
All watches, warnings and advisories will be posted on this site as they are issued. The latest official hazardous weather outlook for our are is available via the link provided below.
---
Tuesday, March 14th - Full Worm Moon Tonight...
Weather permitting, the snowy hillsides across our area will tonight be lit by the light of the Full Worm Moon, which officially occurs this afternoon at 4:35PM MST.
In March the temperature begins to warm and the ground begins to thaw, earthworm casts appear, heralding the return of the robins, hence the name Full Worm Moon.
The more northern tribes knew this Moon as the Full Crow Moon, when the cawing of crows signaled the end of winter; or the Full Crust Moon, because the snow cover becomes crusted from thawing by day and freezing at night. The Full Sap Moon, marking the time of tapping maple trees, is another variation. To the settlers, it was also known as the Lenten Moon, and was considered to be the last full Moon of winter.
As a bonus, a rare penumbral lunar eclipse will be underway as the Moon rises, just after 6:00PM. This type of eclipse occurs when the Moon passes through the Earth's penumbra shadow, partially blocking the sunlight from reaching its surface. From Earth the eclipse will appear as a slight shadowing or darkening of one portion of the full Moon.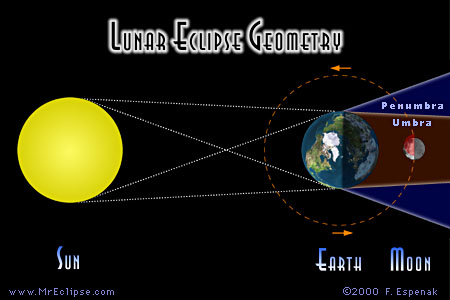 Geometry of the Sun, Earth and Moon During an Eclipse of the Moon.
Earth's two shadows are the penumbra and the umbra.
(Sizes and distances not to scale)
---
Sunday, March 12th - Photo Of The Week...
Resting on a branch during last Wednesday's snowstorm, a male Oregon Junco is featured as our photo of the week.
The Oregon Junco (Júnco oregánus) is a common bird throughout our area often seen in large flocks near feeders in the winter. Juncos are rather tame sparrow size birds with light pink bills, gray or black hoods and white outer tail feathers.
The Oregon Junco is distinguished from our other area Juncos, the Slate-colored Junco and the Gray-headed Junco, by its black head contrasting sharply with its rusty colored back. However some races of Oregon Juncos have a gray head with a more pink back showing much less contrast. The three types of Juncos in our area are now considered to be the same species, Dark-eyed Juncos (Junco hymenalis).
These lively territorial birds are ground dwellers and feed on seeds and small fruits in the open. They also move through the lower branches of trees and seek shelter in the tangle of shrubs.
---