Storm Mountain News
Local News
Monday July 31st - Big Thompson Flood 30th Anniversary....
Today marks the 30th anniversary of the dreadful summer day when heavy afternoon rains sent a raging torrent of water down the Big Thompson Canyon killing 139 people, causing millions of dollars in damage and resulting in the worst natural disaster in Colorado history.
As people along the Big Thompson River fished and enjoyed what appeared a beautiful summer day, a stalled thunderstorm upstream was rapidly dropping months worth of rain in a few short hours. By evening, this rain would swell local streams feeding the Big Thompson, sending a 14 foot wall of devastation down the Big Thompson Canyon.
Homes were washed away along with the residents in them. Survivors speak of seeing the headlights of automobiles bobbing under the surface of the raging river, some with occupants still inside. Highway 34 was completely washed away in many places leaving motorists stranded on precarious outcrops dangerously close to the raging flood waters. By the end of the day, 139 people would have lost their lives in this mountain tragedy. The bodies of six others would never be found.
During the initial stages of the flood a Colorado State Patrolman, Sergeant W. Hugh Purdy, and an Estes Park officer, Michel O. Conley, frantically traveled the dangerous roadways warning residents and visitors of the impending danger. Some reportedly laughed at the officers' warnings and were swept away in the flood. The officers themselves made the ultimate sacrifice, losing their own lives in their dedication to saving others. A memorial stands today in honor of these brave law enforcement officers whose selfless efforts saved many from certain death.
A "High-Water" marker will be dedicated today at the location of the old power plant which was washed away in the flood. Only the turbines remained. Memorials and remembrances are also scheduled at the Big Thompson Community Building, near the flood memorial markers along Highway 34, one mile east of Drake.
The Loveland Reporter-Herald is running an excellent series on the "1976 Big Thompson Flood", including several interactive online presentations. This superb documentation of the tragic event can be viewed by clicking the link below.

Other Big Thompson Flood Links
Fort Collins Coloradoan
Online Flood Presentation
1976 Big Thompson Flood Memorial
Big Thompson Canyon - Larimerco.com
---
Sunday July 30th - Photo Of The Week...
Often seen scampering along the hillsides throughout our area, a Golden-mantled Ground Squirrel is featured in this week's photo of the week.
The Golden-mantled Ground Squirrel (Spermophilus lateralis) is sometimes mistaken for it's cousin the chipmunk, but is easily distinguished by its golden-brown head and upper body and a lack of any striping on the face. All chipmunks have striped faces.
The Golden-mantled Ground Squirrel is similar to chipmunks in more than just its appearance. Although it is a traditional hibernator, building up its body fat so to survive the winter asleep, it is also known to store some food in its burrow, like the chipmunk, for consumption upon waking in the spring.
Both the Golden-mantled Ground Squirrel and the chipmunk have cheek pouches for carrying food. Cheek pouches allow them to transport food back to their nests and still run at full speed on all fours. By comparison, when a more typical ground squirrel is threatened by a predator, it has to drop its food if it wants to make a quick getaway.
Golden-mantled Ground Squirrels dig shallow burrows up to 100 feet in length with the openings hidden in a hollow log or under tree roots or a boulder. The female gives birth to a single litter of 4–6 young each summer.
The Golden-mantled Ground Squirrel is abundant throughout its range and is equally at home in a wide variety of forest habitats as well as rocky meadows, and even sagebrush flats.
---
Friday July 28th - Free Communication Seminar On Aug 2nd...
Communication experts Paul Sterling and Kristin Denton will be presenting a free communication seminar to the public on Wednesday, Aug 2nd.
The two hour seminar will be held at St. Bartholomew's Church, 880 MacGregor Ave, in Estes Park. The presentation begins at 7PM and will be an introduction to Sterling's groundbreaking "4-Step Method" of relationship improvement through good communication skills, the Language of Peace.
On the weekend of August 18 - 20, Sterling and Denton will be presenting a full 2 ½ day seminar on The Language of Peace so that individuals may acquire the method as a natural way to communicate in all of their relationships, business and personal.
Paul Sterling, after a career as a commercial fisherman in Alaska, has spent the past twenty years studying and teaching communication skills in government and business. Kristin Denton has been an instructor of language and literature for the last 17 years in both the workplace and public school settings. Sterling and Denton are both residents of the Big Thompson Canyon and are sometimes seen kayaking in the Big Thompson River near Sterling's home.
For more information on the Language of Peace or to reserve a seat at the free seminar contact Paul Sterling at: 970-586-7734 or email: cibe@sprynet.com.
---
Thursday July 27th - Two Human West Nile Cases Confirmed...
The Larimer County Department of Health and Environment on Wednesday announced that the first two cases of West Nile Virus in Larimer County for 2006 have been confirmed. Health Department officials said that both individuals, a Loveland man and a Fort Collins woman, are in their early 50s. Laboratory tests confirming the positive results became available on Wednesday. Both persons are at home and recovering, though still afflicted with typical West Nile Virus fatigue.
The woman from Fort Collins reported her symptoms began around July 4, and she visited her doctor the following week. The man from Loveland noticed vague symptoms around the same time, but only found out about the infection after donating blood, and the virus was detected as part of the screening process.
"These persons were likely bitten by an infected mosquito either the last week of June or first week of July," said Mike Doyle, West Nile Virus Health Educator for Larimer County. "Because the lag time between a bite and getting a positive test result can be up to a month, health departments often don't hear about a human infection until 2-4 weeks after the person was bitten." Doyle stresses that it's really important to wear repellent and eliminate mosquito hiding places and report standing water long before you hear about cases in the news.
"These two cases should remind us all that West Nile Virus is still very much with us," said Dr. Adrienne LeBailly, director of the Larimer County Department of Health and Environment. "It's important for everyone to wear repellent throughout the entire mosquito season ," she said. "The Culex mosquitoes are biting and infecting people even though you may not have heard or read of confirmed cases."
West Nile Virus can cause a serious illness that is transmitted to humans by the bite of an infected mosquito. In 2003, Larimer County was hit hard with the virus, making over 500 people sick and causing nine deaths. In its most serious form, West Nile can cause severe neurological problems. It can best be prevented by regular application of insect repellents containing DEET when outdoors.
Currently mosquito traps are set through out Larimer County to monitor the numbers of Culex mosquitoes, the kind that carry and transmit West Nile virus. Doyle notes that mosquito numbers are on the rise. Though the numbers are not as high as during the 2003 season when numerous persons were stricken by West Nile virus, "they've gone up significantly in the last week," Doyle said. "Actually, the risk is of infection is higher today than it was when these two persons got sick."
Doyle reminds Larimer County residents to follow the guidelines for preventing mosquitoes from biting. These include:
Wear an insect repellent containing DEET, following instructions carefully, whenever you are outside, in the backwoods or the backyard. Be sure to apply repellent on children and elderly, following instructions on the label or container.


If you are a parent of young children, do not forget to use repellent yourself as well as to apply it carefully to your children.


Report standing water areas to your local officials. In Fort Collins and Timnath, call 663-5697. In Loveland call 962-2583. In Wellington, call 568-3381. In Berthoud, call 532-1600. In unincorporated Larimer County, call 498-6792.


Drain standing water around the house at least weekly. Change birdbath water at least weekly; in this hot weather, mosquitoes can go from eggs to adults in just 5 days. Receptacles such as buckets, clogged rain gutters and rain barrels are very attractive spots for a mosquito to lay its eggs.


Stay clear of places where mosquitoes are known to gather, (long grasses, wetlands, shrubs and grassy shores), especially at dusk when they are most active.


Water your lawn fewer times per week so the roots stay moist but the grass blades are dry.

In your garden, use drip or soaker hoses instead of overhead sprinkling.

Eliminate mosquito hiding places by trimming branches away from the ground.
Doyle also adds that it's very important to wear an effective repellent during summer evenings while taking part in or watching softball, baseball, and soccer at local parks. "Many of our local recreation parks are built near wetlands, rivers, and irrigation ditches which are very attractive to mosquitoes," he said. "It's also important to pay attention to neighborhood detention basins and report any basins where there is standing water."

And remember, he adds, it only takes a trip out to the backyard to get bitten by an infected mosquito if you are not wearing repellent/

Why the lag time for diagnosis?

Susanne Murray, Communicable Disease nurse at the Health Department says that the lag time from bite to report is due to the incubation period (the time from bite to symptoms appearing) and how quickly a person seeks medical evaluation. Murray says that the first symptoms usually appear anywhere from 3 – 14 days after being bitten. Symptoms may include body aches, fever, chills, headache and dizziness. If a person goes to their doctor for testing, the test is most accurate if at least 8 – 10 days have passed since the onset of symptoms. There will then be a one to three-day wait for test results.

"Tests done earlier may not be accurate," Murray said, "but it may still be important to see your doctor sooner if your symptoms are severe." Because there is no vaccine or antiviral treatment for West Nile Virus, treatment consists of rest, drinking fluids, and analgesia to relieve pain and fever until symptoms have passed, she added.

For more information on West Nile Virus infection, visit www.larimer.org/health, or call 498-6700. For more information on West Nile Virus or use of insect repellents, visit www.larimer.org/health, www.FightTheBiteColorado.com, or call Mike Doyle at the Larimer County Department of Health and Environment at 498-6752.
---
Monday July 24th - Rabies Precautions Urged By County...
With summer being the peak of rabies season, Larimer County health officials remind the public to take precautions against contracting this serious, sometimes deadly, disease.
Since spring, five bats in Larimer County have tested positive for rabies. Also, four Larimer County residents are currently receiving the rabies immunization series due to their exposure to bats that tested positive for rabies or whose rabies status is unknown.
Rabies is an infectious viral disease that is transmitted to humans through the saliva of an infected bat or other mammal, affecting the nervous system of those infected with the virus. Left untreated, it is almost always fatal. Bats are the most common carrier of rabies in Colorado though rabies can also be carried by other animals such as dogs, cats, raccoons or skunks.
According to Rich Grossmann, Environmental Health Specialist at the Larimer County Department of Health and Environment, bats are very active in the summer. Grossmann explains that, after emerging from hibernation in the spring, bats migrate north during the summer and roost in sites close to where humans and pets live or recreate. "This increases the likelihood of human and pet exposure to bats and other mammals that can carry rabies," he said.
Grossmann stresses two of the most critical steps toward preventing infection with the rabies virus: minimizing contact with possibly rabid animals; and keeping dogs and cats updated on their vaccinations against the disease.
Grossmann also said it's crucial that, if there has been any chance of exposure to bat saliva, that the bat be captured for testing and that the possibly exposed person seek medical care immediately.
"A person may be unaware that they have been bitten since a bat bite is generally small and may be undetectable to the eye," Grossman said. He relates that in the spring of 2006 a teenage boy in Texas died of rabies after exposure to a bat in his bedroom several weeks before. "The boy awoke to find a bat in his bedroom, but he was unaware that he had been bitten," Grossman said. He added that the boy did not confine the bat so it could be tested, and did not seek medical attention until the rabies symptoms appeared. "This type of situation is preventable."
Grossmann stresses the following steps for preventing transmission of rabies:
Vaccinate your dog, cat, and ferret and keep the immunizations up to date.

Do not handle or hand feed wild animals and teach your children not to handle any wild animal. Report any strange acting wild animal to the Larimer County Humane Society

Keep bats from entering your home through damaged screens, open windows and small holes near doors or under gutters.

Keep your pets under supervision and prevent them from roaming and coming in contact with wild animals that might be rabid.
"People often handle animals out of pity or concern for an animal that is acting strangely," said Grossmann. A rabid animal may exhibit abnormal behavior such as bats being "grounded," nocturnal animals being active in daylight, paralysis or staggering, and excessive salivation ("foaming") around the mouth. "An animal with rabies will likely bite if touched and may act aggressively when approached," added Grossmann.
Larimer County requires that dogs and cats be kept current on rabies vaccinations. "Should your unvaccinated dog or cat come in contact with a positive bat, your animal will be placed under strict quarantine at a licensed facility for several months or may possibly be euthanized," Grossmann said. "Just this week a pet cat in Larimer County had to be euthanized because it was unvaccinated and had contact with a positive bat.
"This can be prevented by keeping your pets current on their vaccinations," Grossmann stressed.
If you or your pet is bitten by or exposed to a bat, raccoon or other animal:
Wash the bite or area that has touched the animal thoroughly with soap and water and seek medical or veterinary attention as soon as possible.

Seek medical help if you or your pet has been closely exposed to wildlife such as a skunk, raccoon or a bat even if you are unsure if you or your pet has been bitten.

Contact the Larimer County Humane Society at 226-3647 and notify them of where the animal is located.

If the bat is in a house, do not let it go. Rather, confine it to the room and call the Humane Society to come and retrieve the animal for testing.

Do NOT touch the animal. Until the animal is removed, do not sleep in the room or allow in the room young children or any incapacitated adult who could not report contact with the bat.
For more information on rabies and other diseases carried by animals, call the Larimer County Department of Health and Environment at 498-6775 or visit www.larimer.org/health.
---
Sunday July 23rd - Photo Of The Week...
This week's photo features a beautiful local wildflower, the Rocky Mountain Beeplant, which is currently in bloom on hillsides throughout our area.
The Rocky Mountain Beeplant (Cleome serrulata) is an annual flower and is found throughout the southwestern United States, including Colorado. The plant also ranges from Illinois and Missouri to Saskatchewan westward to Washington and southward to west Texas at elevations under 8,500 ft. The plant featured in these photos was found along CO 43, east of Glen Haven.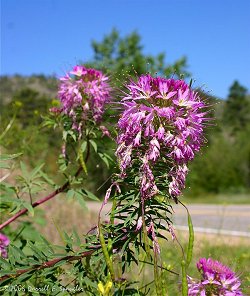 Rocky Mountain Beeplant is an erect, branched annual (reproduced from seed every year) that grows to about 3 ft. tall in our area. Each leaf has a stalk (petiole) and three narrow leaflets whose margins may be entire or minutely serrulate (toothed). Dozens of bright, pink to purplish flowers are crowded into rounded or rather elongate spikes. Flowers are about 1/2 inch long and atop long pedicels. The stamens (pollen-bearing organs) are longer than the flowers, giving the spikes a fuzzy appearance. Fruit is a narrow capsule up to 2 inches long that bears several to many dark, ovoid seeds.
This species is a member of the caper family (Capparaceae), named after similarly pungent capers, the edible flower-buds of a Mediterranean plant, Capparis spinosa. This is a relatively small family of about 900 species, mostly tropical, that contains many trees and shrubs. The generic name Cleome is an ancient Latin name of some member of the mustard family. The specific epithet serrulata means "finely toothed" in botanical Latin.
Look for Rocky Mountain Beeplant in early July on native prairie in light or sandy soils and in both lightly and heavily grazed pastures.
This plant is sometimes grown as an ornamental. Many Cleomes in the Tropics are used as foods, medicines, and dyes, but there is no mention of economic uses for Rocky Mountain Beeplant.
---