__________________

Homeland Security
____________________
____________________
__________________


"The Storm Mountain Incident"
Pollution of our
National Forest Streams

(Requires Free PowerPoint Viewer available here)
__________________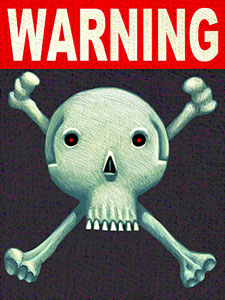 Contamination to Storm Mountain Properties
Click here for the facts!
__________________
[ Up ]
__________________



__________________
__________________
May 31st, 2004 - In Memory of Our True Heroes... The owners and staff at SMN would like to extend our sincere gratitude and appreciation to the past Veteran's, currently serving members of the Armed Services, and their families, whose Fathers, Sons, Mothers & Daughters have fought and given the ultimate sacrifice to preserve the freedoms we enjoy today... You are our true heroes...
---
May 29th, 2004 - School's Out For Summer... Friday was the last day of school for children going to the Big Thompson Schools in Loveland... The last day for children going to Estes Park Schools will be this Thursday, June 3rd... As there will be no lunch menus through the summer break, school links in our "Community" section will direct you to the respective school's main administrative page where you may find information about registration, supplies, etc. for the next school year... Have a great Summer kids!!!
---
May 28th, 2004 - Fire Safety Important This Holiday Weekend... With the recent warm weather, and the possibility of dry thunderstorms producing high winds and lightning, fire safety is especially important this holiday weekend... We at SMN would like to remind all residents and visitors to our area that a "Fire Ban" remains in effect ,and that "Larimer County Burn Regulations" both apply, and will be enforced, in our area... Please use extreme care when using any type of open flame, including backyard grills and fire-pits, throughout the Memorial Day weekend...
Work Continues On New Fire Station... The construction of a new fire station on Hwy 34 East of Drake, is progressing well... The new station will be a vast improvement over our current, "Bat Cave", and a valuable asset to the safety of our area... With three bays on ground level and a living quarters upstairs, response time should be reduced as well as having more trucks and equipment available locally... To follow the construction of the new facilities in photos, please click on "Station #8" in the left-hand sidebar of this page...
---
May 27th, 2004 - "State Is Cutting Off Nose In Spite Of Face"... Is the statement made to SMN today by a local resident whose property was allegedly damaged by Magnesium-chloride use, not as a deicing agent , but as a binder for dust control... "Take a ride up Hwy 7 out of Estes or Hwy 36 towards Lyons... Most of the trees along the road are dead or dying with the same appearance as the trees that were killed on my land... Someone must have invested heavily in this Mag-chloride crap, as they are effectively destroying our once spectacular views and fighting desperately to find another cause for the dying trees... It is truly sad to see this occur... I'm amazed that it is being allowed to continue... They, the State, are cutting off their nose in spite of their face... And the damage in not something that can just be fixed or just go away... There will be long lasting effects from use of this chemical for years to come... But I guess money is more important to them than our State's resources"... State officials are reported as doing studies to try and point another direction for the cause of the sudden death of tress... One indeed has to question why they are so defensive of their precious MgCl2... We also find it interesting that the start of the dying trees coincided with the start of Mag-chloride use in our State... Theories citing drought as the cause are not feasible as trees growing in and along rivers, which have plenty of water year round, are dying equally...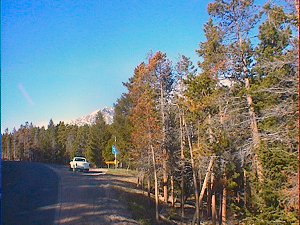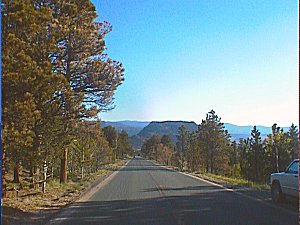 Photo showing dead trees suspected to be a result of Magnesium chloride usage along Hwy 7, the "Peak-to-Peak Highway", tarnishing the views along a "Colorado Scenic Byway"
---
Disclaimer: Stories and other content are submitted by independent sources and do not represent the opinions or views of Storm Mountain Net, nor it's employees... All stories are posted without bias to their content... While every attempt is made to be concise in our reporting, Storm Mountain Net is not responsible for any incorrect information...