__________________

Homeland Security
____________________
____________________
__________________


"The Storm Mountain Incident"
Pollution of our
National Forest Streams

(Requires Free PowerPoint Viewer available here)
__________________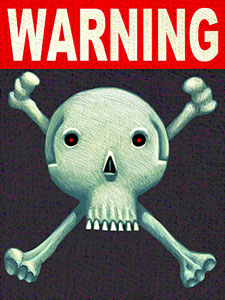 Contamination to Storm Mountain Properties
Click here for the facts!
__________________
__________________



__________________
__________________
June 6th, 2004 - Residents Question Killing Of Bear... Several residents have reported to SMN that a Black Bear was allegedly shot sometime Friday evening or Saturday morning by DOW area manager Rick Spowart and/or a group of his friends... The bear was estimated to be 400 pounds and was apparently healthy... No bear problems in the area have been reported raising questions as to why the bear was killed... The carcass was reported Saturday to be laying on a table at Schaffer's Campground located at the intersection of Hwy 34 and CO 43, with the head, hide, and gall bladder being reported as taken by Spowart, and the meat allegedly being given to his friends... This is reminiscent of a few years ago when a female mountain lion and her two young cubs were, in the opinion of many in the area, needlessly killed by a group of hunters under Spowart's direction, angering residents in the Glen Haven area...
---
June 5th, 2004 - Wildflower Displays Best In Years... Just about anywhere you look in the Storm Mountain area, you will be sure to see abundant displays of local wildflowers... This year's moisture has been greater than the past couple of years leading to the shows of color across the region... The Storm Mountain area is also noted for several less common and endangered species of wildflowers...
---
June 2nd, 2004- Area Fire Ban Extended Through August... A "Fire Ban" for our area, which was scheduled to expire yesterday, has been extended through August... Warm Spring weather leading to an abundance of undergrowth combined with a predicted dry, hot summer led to the decision to extend the ban... Links to information on both the current fire ban and Larimer County burn regulations can be found in the left hand sidebar of this page...
---
Disclaimer: Stories and other content are submitted by independent sources and do not represent the opinions or views of Storm Mountain Net, nor it's employees... All stories are posted without bias to their content... While every attempt is made to be concise in our reporting, Storm Mountain Net is not responsible for any incorrect information...