__________________

Homeland Security
____________________
____________________
__________________


"The Storm Mountain Incident"
Pollution of our
National Forest Streams

(Requires Free PowerPoint Viewer available here)
__________________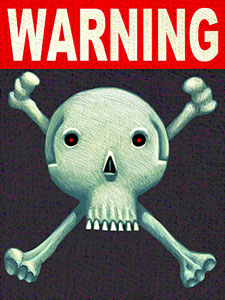 Contamination to Storm Mountain Properties
Click here for the facts!
__________________
__________________



__________________
__________________
June 11th, 2004 - High Winds Buffet Area... High winds swept across the Storm Mountain area late yesterday, uprooting trees and causing power interruptions throughout the night... Gusts were estimated to exceed 80 mph... While no major damage to any structures has been reported, residents will certainly spend some time rearranging outdoor items moved by the strong winds...
---
June 10th, 2004 - That "Wild Turkey" Strut... One of the many species of birds residing in our area is the "Wild Turkey"... Sometimes seen along roadsides and trails, these "Toms & Hens" are beautiful to watch... This is especially true of the "Toms" during mating, as they strut their stuff to impress potential mates... The "Wild Turkey" is a year round resident to the Storm Mountain/Drake area and is considered somewhat uncommon...
---
June 9th, 2004 - West Nile Education Program This Afternoon... The Estes Park Chamber is sponsoring a "West Nile Virus Educational Program" on Wednesday, June 9 at 2:00 PM. It will be presented by Alice Ashmore, one of two West Nile experts and educators recently hired by Larimer County . The program will be held in the meeting room at the Inn at Estes Park , located at 1701 North Avenue and is open to the entire community.
---
June 8th, 2004 - Questions Surrounding Bear Killing Answered... The questions surrounding the killing of a black bear on the evening of June 4th have been answered... It has been verified that the bear was struck by a car Friday afternoon and had to be put down... Allegations by residents implying any type of illegal shooting and/or the taking of body parts and meat were false... The incident was handled by Jason Adler and Clint Rushing, both Larimer County Sheriff's Deputies as well as Jim Boyd of "Bear Aware", and was done in accordance with all applicable laws... The Schaffer's and their campground were not involved in any improper activity, nor was DOW manager, Rick Spowart...
Moving Right Along... The unseasonably warm weather, aside from raising our fire danger, has increased the snow melt in the high country... Rivers in the area, including the Big Thompson and North Fork, are expected to continue rising for the next few days... While not at flood stage, residents and visitors are advised to use caution around area waterways, especially with children and pets... And always remember, "In Case Of Flash Flood, Climb To Safety"...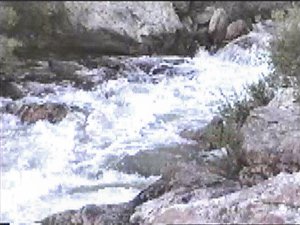 Video of Big Thompson river taken along Hwy 34 just east of mile marker 72... Right click on above picture and "Save As" to download video...
---
June 7th, 2004 - RED FLAG WARNING ISSUED... A "Red Flag Warning" has been issued for the North Central foothills and valleys, including the Storm Mountain Area, until 9:00pm tonight... High winds, low humidity, and warm temperatures have degraded our already dangerous fire situation, creating favorable conditions for high rates of fire spread and extreme fire behavior through this afternoon and evening...
---
Disclaimer: Stories and other content are submitted by independent sources and do not represent the opinions or views of Storm Mountain Net, nor it's employees... All stories are posted without bias to their content... While every attempt is made to be concise in our reporting, Storm Mountain Net is not responsible for any incorrect information...