Saturday, August 14th - Investigation Reveals Contamination More Serious Than Expected... An investigation this morning by SMN has revealed that the contamination issues from the alleged negligent use of hazardous chemicals may be far more serious than previously suspected... The chemicals have already made their way into waterways forming oil slicks on the surface... These chemicals are currently flowing downstream towards the North Fork and Big Thompson rivers... Large amounts will surely be washed into drinking supplies at the first sign of precipitation... As it stands this morning, a full blown environmental nightmare is unfolding along FDR 128 in the Roosevelt National Forest, threatening drinking water for communities and individuals downstream, including the City of Loveland... Many questions remain unanswered such as: (1) Were proper permits obtained, (2) What environmental impact studies were preformed if any, (3) Was the driver of the tanker licensed to apply the product, (4) Was the use of these hazardous chemicals on their road approved by the National Forest Service, (5) Was a geologic survey done to determine the potential for groundwater contamination, and (6) Why were safety precautions not taken to prevent this type of run-off contamination???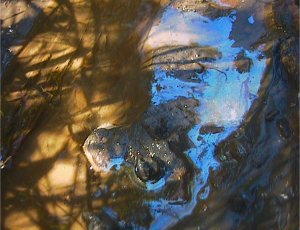 Oil slick on National Forest waterway as a result of alleged negligence allowing migration of road chemicals into streams

Road Crew's Neglect Results In Contamination... Yesterday's application of road chemicals to FDR 128 has once again run into at least one resident's property resulting in contamination of the soil and water, as well as contamination to adjacent National Forest waterways... "Proper precautions and safeguards were never taken... They were fully aware on the potential for contamination and chose to ignore it... There are specific guidelines for the use of these chemicals which were never properly followed... And the County is simply turning their heads to the issue", states the effected resident... The chemicals were applied by the Cedar Park Road Maintenance Corporation and reportedly supplied by Envirotech Services... A copy of the guidelines for application has been obtained by SMN... These guidelines clearly call for bordering and/or building up of road edges to prevent contamination from run-off... To our knowledge, no such borders or edges were ever constructed as indicated in the safety precautions of the manufacturer's guidelines... The chemicals are also flowing freely into National Forest waters feeding into the North Fork and ultimately the Big Thompson River which supplies drinking water to communities and individuals downstream... We do not currently know if proper "Stormwater Permits" were obtained as required by law... A formal complaint to the EPA in Washington, DC has reportedly been filed by the resident, as well as a report made to the Colorado Dept. of Environmental Health, with a full investigation, including Larimer County Health officials failure to act, now likely... Other documents obtained by SMN indicate that the homeowner's association were aware of the potential problems of run-off contamination from the use of these chemicals as long ago as 1998... In the minutes from the Summer 1998 meeting Rich Miller stated, "but there is a problem, the Forest Service will not allow anything that migrates in

a rainstorm to the river. The only thing he knows of is Calcium Chloride and Magnesium Chloride, which is very

expensive. If anything migrates ever shows up in a river with an oil slick on it, we will all have problems." The secretary for Cedar Park Homeowners Association has been contacted for a response to the allegations of neglect, but has not yet responded as of this posting...
Photo showing flow of chemicals running through
property of resident
One of several pools of chemicals deposited on resident's property yesterday
Chemicals running down hillside along FDR 128 indicating failure to use proper safeguards against run-off
One of many chemical streams migrating toward and into National Forest waterways from FDR 128
---
Friday, August 13th - Tanker Gets Stuck On Access Road... Friday the 13th indeed turned out to carry bad luck for a truck driver who got stuck on FDR 128 early this afternoon... The tanker was apparently attempting to turn around after applying road chemicals when the cab jack-knifed and got stuck on the soft shoulder... Traffic was delayed for a few minutes while workers pulled the truck out and onto the road with a water truck...
| | |
| --- | --- |
| | |
| View of tanker jack-knifed near bottom of FDR 128 | Workers preparing to pull out tanker with water truck |
Fire Fest 2004 Tomorrow In Drake... The Big Thompson Canyon Volunteer Fire Department will hold their annual Fire Fest on Saturday, August 14th at the Drake Campground located at the intersection of Hwy 34 and CO 43... This is a fundraising event for the department... Residents are encouraged to get out and support our local Firefighters... The highlight on the event is an auction, with BBQ Chicken dinners, music, dancing, and fun for all... The event begins at 3:30pm and will continue until all items are auctioned off...
Sign for Fire Fest 2004 on corner of Hwy 34 and CO 43
Happy Friday the 13th... Ever wondered why this day is associated with bad luck... The "bad luck" attributed to Friday the 13th comes from peoples' assumption that the date carries evil in it's wake. Therefore, anything that goes wrong on the 13th is assumed to be the effect of some supernatural evil. The luck or unluck of any given number resides solely in the mind of the person, and within the realm of the boogie man. All the superstitions built up around Friday the 13th were political maneuvers, largely on the part of Christian religious leaders (but most definitely not the only offenders), to divert their followers minds from other spiritual paths. The history of this superstition can be found below.
---
Thursday, August 12th - Work On Access Road FDR 128 Tomorrow... Road crews will be applying the dust inhibitor and road-base stabilizer, "Lignon", to the lower two miles of access road FDR 128 on Friday, August 13th... Residents are advised to allow extra travel time as delays can be expected during the work...
Perseid Meteors Put On Impressive Show... Last night's showing of the annual, Perseid Meteor Shower, turned out to be the best in years... The extremely transparent skies led to visibility rates up to 120-180 per hour, here on Storm Mountain... Many were large, bright, and very colorful... Weather permitting, a second chance to catch the event is possible tonight with rates remaining well over 10 per hour... Photos of last nights Perseid's may been found below...
County Names Wynette Cerciello As Human Resources Director... Wynette Cerciello takes the helm of the Larimer County Human Resources Department on September 13th, 2004... She competed among 82 candidates for the top Human Resources job at the County and will head a staff of 13 people... Cerciello leaves the Assistant Human Resources Director position at the City of Fort Collins, a job she has held since January 2001.... Cerciello's salary at Larimer County will be $83,000... As Human Resources Director for Larimer County, Cerciello will oversee all functions of the Human Resources Department including County-wide personnel policy and procedures as well as comprehensive programs and services for County-wide recruiting and staffing, employee development, benefit, and payroll programs....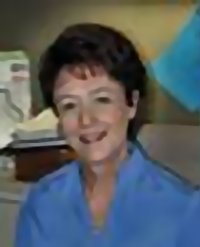 New Larimer County Human Resources Director,
Wynette Cerciello
County Seeks Input On Rural Addressing System... County officials are seeking feedback from citizens on a draft Resolution that would govern new addressing standards... These proposed standards speak to a number of issues, including how roads are named, how structures are numbered, and requirements for road signs.... The regulations contained in the draft Resolution would only apply to the project area which consists of: unincorporated Larimer County excluding the Estes Valley; the growth management areas of Fort Collins, Loveland, Windsor, and Berthoud; and, state and federal land.... This includes the Storm Mountain, Cedar Park/Cedar Springs area... The complete text of the news release can be found below...
---
Wednesday, August 11th - Severe Thunderstorm Watch Until 8pm... The National Weather Service in Denver has issued a "Severe Thunderstorm Watch" for much of Eastern Colorado including the Storm Mountain Area until 8:00pm tonight... While instability is less than yesterday, there will be enough heating combined with low level moisture to promote the development of severe storms after 2pm...
Perseid Meteor Shower Tonight... The 2004 Perseid Meteor Shower is now underway with the peak being tonight after midnight... Currently there are 10+ meteors per hour hitting our atmosphere with this number increasing to 60+ per hour by the early morning hours of August 12th... The best viewing will be looking to the East between 2am and 5am tomorrow morning, though Perseids can be seen throughout tonight... More info can be found below...
Coors, Salazar To Face Off In November... Primary Elections yesterday decided the candidates for our 2004 General Elections in November... Big winners were Pete Coors and Ken Salazar, who will compete for the U.S. Senate seat currently held by retiring, Ben Nighthorse Campbell... Below is a breakdown of the 2004 Larimer County, State, and U.S. Candidates for our area... This is based on the, "Final Unofficial Results", pending provisional counting... Please note that in the Democratic race for House District 52, John Kefalas leads Bill Bertschy by just 2 votes... There are still some absentee ballots and the provisional ballots that need to be counted and verified, and this could very likely trigger an automatic recount...
---
Tuesday, August 10th - Tornado Warning Issued... At 3:03pm the National Weather Service in Denver issued a "Tornado Warning" for Larimer and Weld Counties until 3:45pm... Radar indicated a severe thunderstorm with rotation about 8 miles Northeast of Fort Collins, moving slowly to the south towards Timnath and Windsor... THIS IS A WARNING!!! Residents in the path of this storm are advised to seek shelter immediately!!!
Tornado Watch Issued Thru 9pm... At 1:16pm the National Weather Service in Denver issued a "Tornado Watch" for all of Eastern Colorado including the Storm Mountain area until 9:00pm tonight... THIS IS A WATCH AND NOT A WARNING!!! Abundant instability and strong wind shear in the atmosphere will promote the development of supercell thunderstorms which will be capable of producing very large and destructive hail up to 3" in diameter... Dangerous lightning, damaging thunderstorm winds up to 80mph, and tornadoes are also possible with these storms...
Primary Elections Today, "GET OUT AND VOTE"... Polls throughout Colorado will open this morning at 7:00am for registered voters wishing to vote in today's Primary Elections... A new law requires that every voter bring some form of identification showing proof of address... A driver's license, passport, Medicare/Medicaid card, or current utility bill are some forms that will be accepted... The polls will remain open until 7:00pm tonight... WE at SMN strongly urge all residents, Republican & Democrat, to participate and to make use of the most powerful people's tool in our Democracy today and, "Get Out And Vote"!!!