Rocky Mountain National Park - Complete Information Resource
Fishing: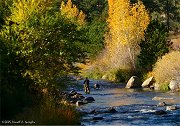 Four species of trout exist in the park -- brown, brook, rainbow and cutthroat. Some suckers also inhabit the streams and lakes. Only 48 of the 156 lakes in the park have reproducing populations of fish. Cold water, a short growing season and a lack of spawning habitat often prevent reproduction in high altitude lakes. Supplemental stocking of native species is done to restore altered waters.
The indigenous Greenback Cutthroat was though extinct until a pure strain was discovered in Como Creek in 1973. Since 1975, many non-native fish have been removed so native greenback cutthroat (eastern slope) and Colorado River cutthroat trout (western slope) may be restored to the park waters. The Greenback Cutthroat can now be pursued within Rocky Mountain National Park.

Below is the current information on Colorado Fishing Licenses:
License

Resident
Nonresident
Annual
$20.25
$40.25
Combination Small Game & Fishing
(If born after 1948, you must show hunter education card)
$30.25
N/A
Senior Annual
(64 years and older)
$10.25
Colorado residents only
Five-Day
$18.25
$18.25
One-Day
$5.25
$5.25
2nd Rod Stamp
(available to licensed residents and nonresidents and to persons under 16 years)
$4.00
$4.00
Youth (under 16)
Can take a full bag and possession limit without a license.
free
free

* Costs include a .25¢ Search and Rescue Fee.
January 1 - December 31
Waters of Colorado are open to taking fish, amphibians, mollusks and crustaceans day and night, year-round, except as otherwise provided in the Fishing brochure.
Free Fishing Days
You can fish in Colorado without a license only on the first full weekend of June, each year. All other rules and regulations apply.
---